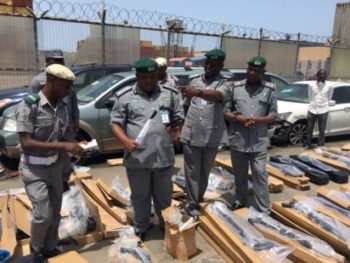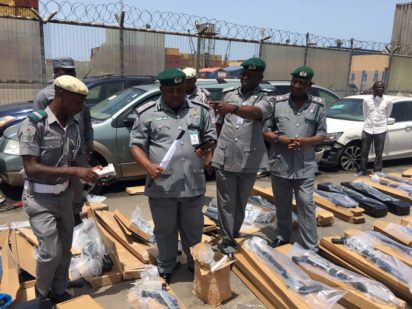 The Nigerian Customs Service (NCS) has intercepted a container load of 440 pump action rifles imported from Turkey at the Tin Can Island Port in Lagos.
This is coming barely three months after the NCS intercepted 661 pieces of pump action rifles at Mile 2 area of Lagos.
Displaying the seized rifles to journalists at the Tin Can Island Customs Command on Tuesday, Assistant Comptroller General of Customs Monday Abueh said that the import originated from Turkey and that the guns were concealed inside a 40-foot container with numbers PONU210024 (1) 22G1 carrying POP powder used for design of houses.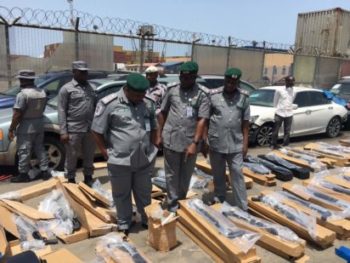 He said that the container was intercepted based on intelligence obtained by the Tin Can Island Customs Command. He added that the container was whisked away by Customs even before declaration was made. Already, he stated that one suspect has been apprehended in connection with the seizure.
According to Abueh, "These are pump action of various designs intercepted based on intelligence report of the Tin Can Island Customs under Controller Bashir Yussuf. He is one of our best officers. He was able to make use of the intelligence report made available to him and the container was identified and intercepted, there is no question of any officer releasing container here, it was intercepted even before declaration.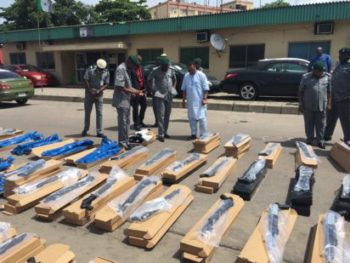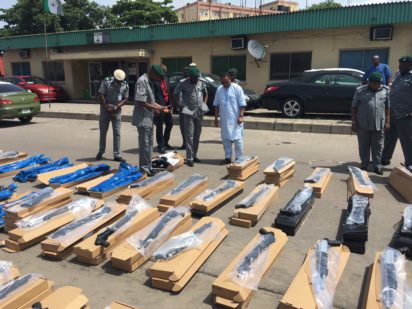 "We discovered that they used POP powder to conceal it in order to beat the Customs examination. We have one defendant but for the purpose of indemnity we don't intend to detain him for long because of security reasons." 
Abueh noted that investigation into the importation of the rifles has commenced.
"Prosecution of matters like this in Nigeria involves a lot of time to push out the culprits, but our lawyers have all what it takes to prosecute those involved," Abueh added.
On his part, The Tin Can Island Customs Controller, Bashir Yussuf said the guns were manufactured in USA and Italy.
"We have other accessories in this container, several parts dismantled but definitely to be reassembled. Investigations would go deeper so as to know where the factory for arms assemblage is located in Nigeria. They were manufactured in the USA and Italy, but shipped to Nigeria from Turkey.
"Generally anytime we have interceptions like this, it requires a lot of intelligence and profiling of importers. The 21st century calls for that, you don't have to wait for things to start happening before you start working.
"POP is a very safe item to conceal weapons because it is not injurious to anyone. It is mainly used on building, it is an attempt to distract Customs attention, but whatever anyone might use, it would attract our attention," Bashir stated.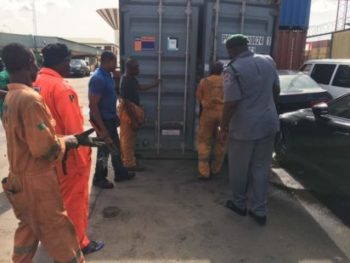 Meanwhile, SIFAX Group has denied report that the container load of arms was intercepted at a subsidiary of the company, Ports & Cargo Terminal at Tin Can Island Port. 
A press statement made available to SHIPS & PORTS DAILY and signed by the Corporate Affairs Manager, SIFAX Group, Muyiwa Akande, said the news report is totally false, untrue and misleading.
"Our findings have shown that the said container was released from another terminal and was headed for an off-dock terminal before it was intercepted by the Nigeria Customs Service on the port access road close to our terminal," the statement said.
According to the statement, Ports & Cargo terminal does not own the port access road "and how we are linked to this beats our imagination."  
Copyright Ships & Ports Ltd. Permission to use quotations from this article is granted subject to appropriate credit given to www.shipsandports.com.ng as the source.