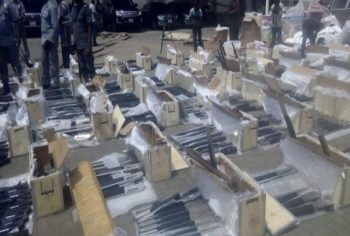 The Nigerian Customs has again intercepted another container-load of arms and ammunition at the Tin Can Island Port in Lagos. The container was found at the Ports and Cargo Terminal of the Tin Can Island Port.
Recall that in January this year, Customs had intercepted a container of 49 boxes containing 661 Pump Action Shotguns in Lagos. This is also coming as stern warning against a military coup came, yesterday, from so many concerned Nigerians.
The leading All Progressives Congress, APC, chieftain, Asiwaju Bola Tinubu, had however, yesterday, warned those contemplating the derailment of the country's democracy to perish the thought.
Tinubu spoke in Lagos just as the Deputy Speaker of the House of Representatives, Yusuf Lasun, echoed the same sentiments, warning the populace that the worst civilian regime was far better than the best of military regimes.
Tinubu spoke at a Special Joint Parliamentary session organized by the Lagos State House of Assembly, to commemorate Lagos@50 and the second anniversary of the 8th Assembly.
The former governor of Lagos State said the nation had gone too far to allow a thing like a military coup to happen again, stressing that such move would be resisted at all costs.
The spokesperson of the Nigeria Customs, Tin Can Island Command, Uche Ejesieme, confirmed the incident and said details would be made public later.