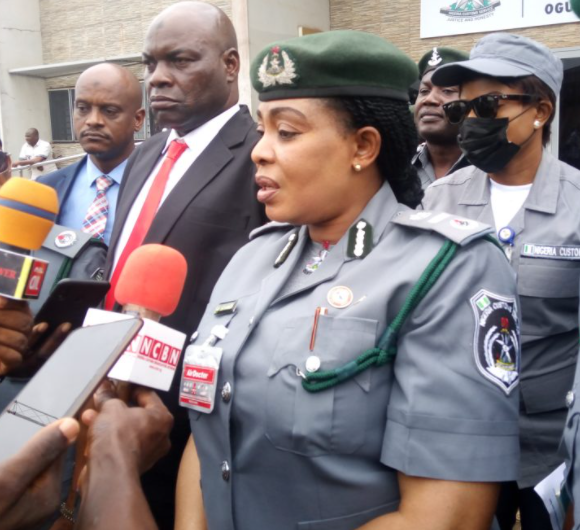 The Nigeria Customs Service (NCS) met with clearing agents who have laid siege to the Tin Can Island Port Complex (TCIPC) since Monday last week, promising that its contentious vehicle identification number (VIN) valuation policy for imported vehicles would undergo necessary review.
The clearing agents began a protest at the TCIPC on Feb. 28 to express displeasure over the VIN valuation system recently introduced by the NCS for assessment of the duty payable on imported vehicles.
The agents, under the aegis of the Association of Nigerian Licensed Customs Agents (ANLCA) and the National Association of Government Approved Freight Forwarders (NAGAFF), argued that the new system was tacitly used by Customs to increase the cost of clearing imported vehicles at the port.
However, at a town hall meeting held in Apapa on Tuesday to resolve the imbroglio, Assistant Comptroller General of Customs, Zone A, Modupe Aremu, assured that the grievances of the protesting agents would be escalated to the Customs high command in Abuja.
Aremu also berated the clearing agents for not understanding valuation processes deployed by customs, as they refused to undergo training.
"We talked and rubbed minds on a solution to this ongoing strike at the ports. The agents were actually trained ahead of the implementation. That was why we are surprised by this kind of response from them when the takeoff of the policy began.
"Modernisation is one of the major goals of the service. We are giving you our words now; your complaints would be presented to the management board.
"It is worthy of note to say that this policy is borne out of national interest, not Customs. Also, the policy came to being as far back as 2018; we just want to implement it this year.
"It is so unfortunate that when the training and the sensitisation were on, almost none of the leaders of freight forwarding associations was present; they sent their boys which supposed not be so. Today we promise to go back to the top management to discuss all these issues. By tomorrow, Wednesday, the meeting will hold and we will revert back to you by Friday," Aremu said.
Chairman, Association of Nigerian Licensed Customs Agents (ANLCA), Tin Can Island Port Chapter, Mohammed Mojeed pleaded with the NCS to allow 90 days grace period before implementation of the new policy.
"One of the major reasons for the protest is that there was an extreme jerk up in the payment of duty on imported vehicles. We appeal to Customs to give us three months so that we will be able to clear vehicles that we have ordered before the implementation of this policy," Mojeed said.
National Deputy President, National Association of Government Approved Freight Forwarders (NAGAFF), Segun Musa, said "Once we get the feedback from Customs, we'll revert back to the public. If they fail to yield to our requests, then the status quo remains; the strike continues. This is the first time they are setting up a platform like this to express our dissatisfaction, which we are satisfied with and as they have promised by Friday, they would definitely get back to us."