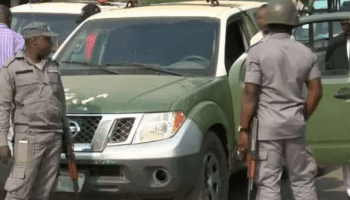 An official of the Nigeria Customs Service (NCS) attached to the Federal Operations Unit (FOU), Zone A, Ikeja, Lagos has been accused of shooting a clearing agent at the Mile 2 area of Lagos.
The clearing agent was reportedly shot in the leg on Wednesday for allegedly refusing to surrender a Toyota Corolla car which he cleared from the Tin Can Island Port.
The said vehicle has been duly exited from PTML Terminal at Mile 2 after payment of customs duty and other taxes. But as usual, Customs wanted to stop the agent for another round of checks. The agent, however, resisted, resulting in his being shot.
Other clearing agents at PTML, in solidarity with their injured colleague, decided to stage a protest on Thursday.
It was learnt that the protest was triggered by the news of the alleged amputation of the leg of the injured agent.
The protesting clearing agents blocked part of the road leading to Tin Can Island Port, partially hampering activities in the area.,
Normalcy has, however, been fully restored in the area.