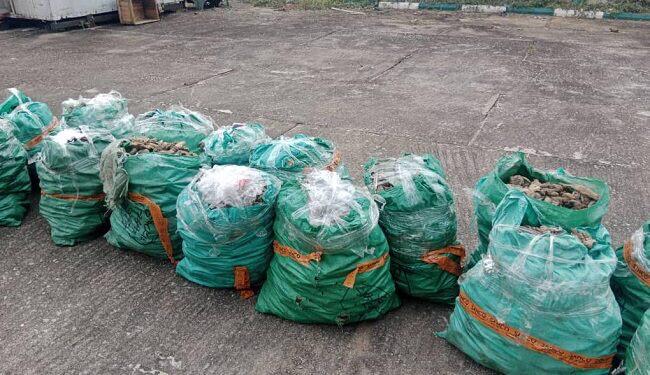 The Murtala Muhammed International Airport command of the Nigeria Customs Service (NCS), Ikeja on Thursday said its officers intercepted male donkey genitals and dried shark fins worth N1.23 billion at the airport.
The command's Customs Area Controller, Muhammed Sanni Yusuf, who made this known in a statement sent to SHIPS & PORTS, said the seized items were on the verge of being exported out of the country to China and Hong Kong.
Yusuf also said that the command generated N47.24 billion revenue between January and July 2023.
He said, "The command made remarkable successes through coordinated anti-smuggling activities in synergy with other critical stakeholders which led to the seizure of six packages of suspected dried shark fins with FOB value of N221.8 million and also 25 packages of suspected dried donkey genitals with FOB value of N1.01 billion making a total of N1.23 billion.
"We have over 1000 fishes whose fins have been harvested here and if this is allowed to go, high numbers of donkeys will be endangered and we will have asked them to desist from this act. Animals in the sea have roles they play and endangering them will mean a lot to the ecosystem. For us in NCS, we make sure we do our jobs and things like this under export prohibition are not allowed to go."
He said the culprits including a Chinese have been arrested while investigation is ongoing "to know where this thing came from".
"I know that in Nigerian waters, we don't have enough sharks that are up to this. This is supposed to be exported out of the country and nabbed at the point of documentation. 1,700 pieces of sharks are endangered and they are going to Hong Kong. This is the first time we are seizing this in the command," he said.
He said the donkey genitals came from Abakaliki, "and we begin to wonder why they came from there".