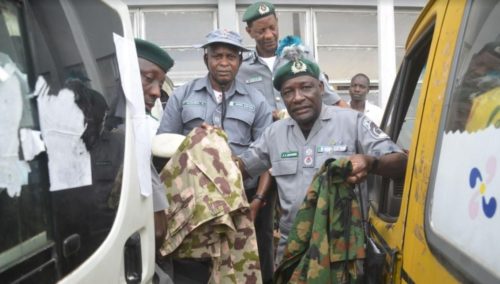 Operatives of the Federal Operations Unit (FOU) Zone A, Lagos have intercepted a bus transporting two big sacks containing military uniforms and boots along Ijebu Ode expressway. This is even as the unit said it also seized 22 cars including nine bulletproof cars and other contraband goods valued at N2.2 billion within one month.
Addressing newsmen in Lagos on Thursday, Controller of the unit, Comptroller Muhammed Aliu, said the military wares were intercepted on Wednesday following a tip-off.
He said, "This is national security. Though they are not much but the damage that would have been done would have been much; that is why we seized them."
Aliu said that while some of the vehicles were intercepted at Ogere and Ijebu Ode, the bulletproof vehicles were trailed and evacuated from some private residence in Victoria Island based on tip-off.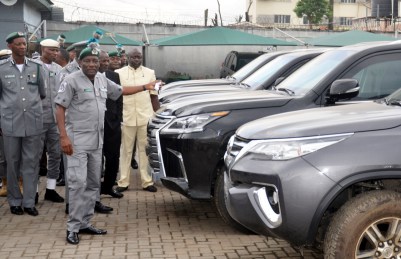 He said the unit also intercepted 11,000 bags of 50kg rice; 2,410 frozen poultry products; 853 jerrycans of vegetable oil, and 245 parcels of Indian hemp among others.
"This is the second time I will be briefing the press since I was here. The first time, I told you how we seized contraband goods worth 1.5 billion within two weeks in office. Now, we have seized 22 cars which nine are bulletproof worth about N9.27 million and other non-bulletproof goods worth N2.4 million.
"We seize bags of rice on daily basis. If you wait a bit, you will see my officers bring in seized bags of rice. Most times, they come in convoy and immediately they see our officers, some will escape while others are arrested," he said.
He said 28 suspects have been arrested in connection with the seizures even as he warned smugglers who see the last quarter of the year as peak period for their nefarious activities to desist from the illegal business or face the wrath of the law.