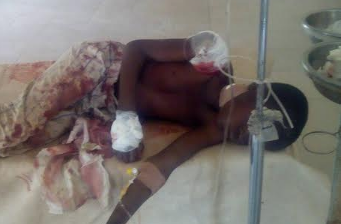 A stray bullet allegedly fired by operatives of the Nigeria Customs Service on Friday hit a primary six pupil, Bello Salisu, of Morawa Primary school, in Morawa village, Batagarawa local government area of Katsina State.
The incident was said to have happened along Katsina – Kano road when the customs operatives shooting sporadically, were allegedly chasing smugglers conveying rice and second-hand clothes in a J5 bus.
Salisu was hit by the stray bullets and sustained injuries on his hand, around his shoulder and neck.
Salisu, who spoke to journalist from his hospital bed in the Accident and Emergency area of General Hospital, Katsina said they were on break when they heard gunshots and ran to see what happened when he was hit by the bullets from the customs officers.
An eyewitness, Abubakar Yusuf said the customs operatives were chasing smugglers when the incident occurred.
He said, "The customs officers were chasing a J5 bus which was carrying smuggled rice and second-hand clothes. They shot at the smugglers and a stray bullet hit the pupil. And so we had to rush the boy down to the hospital as they drove away."
Another class teacher, Shawanatu Musa said the incident happened when the pupils were on break. They heard sound of gunshots and later were told that a pupil from the school was hit by a bullet.
"We were seated when we heard loud sound of gunshots. We were preventing our pupils from going to the roadside when someone came to inform us that one of our pupilswas shot."
The victim's parents could not talk as they cried uncontrollably. It was gathered that Salisu is the only male child in the family.
Principal Personnel Officer, PPO of the Batagarawa Local Government Education Authority, LGEA, Aminu Bello, expressed dismay over the incident which he said calls for urgent intervention by the government to avert future occurrence of such incidence.