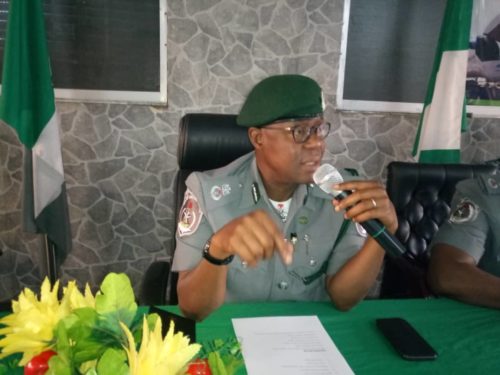 Newly appointed Controller, Apapa Area Command of the Nigeria Customs Service (NCS), Comptroller Abubakar Bashir, has warned clearing agents who are yet to perfect their Pre -Arrival Assessment Report (PAAR) to do so or risk losing their operating license.
Bashir, who gave the warning at his maiden meeting with stakeholders in Lagos on Tuesday, disclosed that that the command has over 1,000 PAAR issued to agents but are left unutilized in order to evade duty.
"We have over 1,000 unutilized PAAR. Why?  If you know your company or you are clearing for any of such company that have unutilized PAAR or unpaid assessment, please go and check your record because I am going to act. I will not invite you because you know about it already, so no need for me to invite you, it is just action. What is the action? First it is blocking you. Your company will not be able to clear cargo in any port in Nigeria. Secondly, if you don't act, we are going to seal up your company and arrest you if you are the importer because it amounts to economic sabotage.
"You have an importation, the cargo you have not taken, meanwhile your company name is listed among those that have not utilize their PAAR or you have even done the assessment but simply because you have one skirmishes or the other with either the shipping companies or other stakeholders, you have not been able to take your cargo, the customs headquarters will soon be signalling to us that you have not obtain assessment and have unutilized PAAR, meanwhile the cargo is still in the port," he said.
Bashir noted that as a result, a number of containers have been abandoned at the port thereby making it difficult for vessels to berth. He reminded the agents that dwell time of any container is 28 days, stating that the command would continue to work by the set procedure for treating overtime cargo.
"Quite a number of our terminals inside the ports are littered with goods belonging to one or two companies. So vessels are finding it difficult to come in and berth and discharge. We have a made a position to the headquarters on that. We should not add salt to injury after the gridlock; we are at the same time succeeding in delaying ourselves due to some of the hindrances within ourselves.
"Any cargo you have within customs approved stations in Nigeria, after 28 days, Customs has the right to take that cargo. We will write to the court and they will give us court condemnation. With that, the government has right over the cargo, according to the CEMA," he said.
While calling for synergy between the command and its stakeholders to achieve seamless cargo clearance at the port, Bashir tasks the agents to demonstrate high level of attitudinal change in order to help the command improve on its revenue generation.
Comptroller Bashir, while responding to complaints by agents on multiple alerts and recurring network failure associated with the Nigeria Customs Integrated System (NICIS) 11, appealed to the agents to exercise patience with the Service while assuring that it would soon overcome the teething challenges.
He said complaints on alerts have been tackled by the command stating that "out of the five alerts, I have collapsed them to three now."