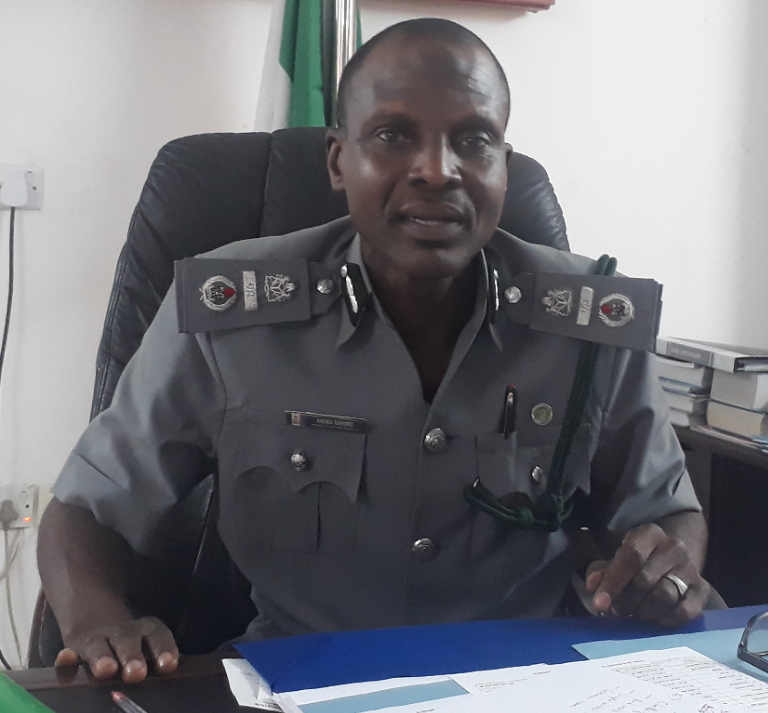 Zonal Coordinator in charge of Zone 'A' of the Nigeria Customs Service, Assistant Comptroller General Aminu Dahiru, has appealed to clearing agents to put the nation's interest first, urging them to desist from patronising unpatriotic and fraudulent importers who imports prohibited products into the country.
Dahiru made the appeal when he visited the National Association of Government Approved Freight Forwarders (NAGAFF) headquarters in Lagos on Tuesday.
He noted that while customs is making efforts to improve on its operations, clearing agents should also learn to do the proper thing and see each other as partners in progress.
He said, "As far as import is concern, there is no serious or senior stakeholder like customs and freight forwarders. Use your platform and assist this nation by saying no to anything that is not permitted to come in to the country or even if it is permitted, it is been brought with an intent to defraud the government, count yourself out of that.
"If you as a forwarder is aware of what you are clearing, is there anything wrong if you say no I don't want to be part of this because I am a born again agent? So whatever is not allowed, please don't be a party to it, don't allow him (importer) to come in. This association can help by encouraging your members to desist from accepting jobs that are prohibited."
He said the customs newly automated platform; NICIS 11 has provided accountability and transparency in the customs documentation process, even as he urged the agents to ensure they update the addresses of their agencies to avoid their licenses being blocked.
"We have experience in recent times where we write an invitation letter to an agency and on getting to the place, we find nobody or the address does not even exist. Every person that is operating on a truthful platform needs to have his identity known.
"We cannot understand why an agency would be operating and when they want to change address, they just moved without informing customs. So that is one area, they need to improve upon and we are working on it. There are agencies that are blocked on no reason other than because their addresses are not known," he said.
President of NAGAFF, Increase Uche, however call for a review of customs procedures under the NICIS 11 platform, saying that the platform has created more problem than value addition to the clearance process.
While highlighting some challenges faced by the agents, Uche appealed to the customs boss to help address the issue of incessant alert on consignments.
"We want to draw your attention to the prevalence of incessant alert and some other issues we mentioned during your last visit. We have not seen any changes at all. In the case of customs license and documentation in the port, what we are seeing today, particularly in migration from ASYCUDA 3.0 to NICIS 11 is just mere change of procedure, no value addition. The situation is worse than what it had been before. There are problems that are inherent in the system more than what we have had before and now that you are here, we want your intervention and learn more about this platform," he said.
Founder of NAGAFF, Boniface Aniebonam, condemned seizure of traded goods, urging customs to provide window for importers of such goods to pay additional duty rather than outright seizures, to help maximize its revenue collection.
"Collection of customs duty is the primary role of customs and then under ancillary functions, you look at anti smuggling operations. As at now, I am not aware customs has enough warehouse to keep seized goods. Go to customs warehouse, you see seized vehicles everywhere. Why don't we penalize the importer and get the vehicle appropriate duty paid instead of all these seizures?" he quizzed.