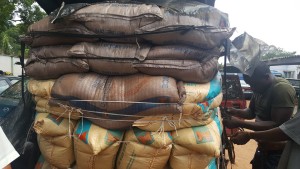 The Western Marine Command of Nigeria Customs Service (NCS) has intercepted 941 bags of 50kg parboiled rice and 66 kegs of premium motor spirit (PMS) with a Duty Paid Value (DPV) of N11.6million.
Controller of the command, Sarkin Kebbi who disclosed this while briefing journalists at his maiden press briefing yesterday in Lagos said the seizures were made within one month when he took over the leadership of the command.
He said the seizures were made at Badagry, Idiroko and Kebbi creeks respectively.
Kebbi said the smugglers have now resorted to using the creeks as they now find it more difficult to smuggle through the land borders.
He lamented that despite the effort of the present administration to boost local production of rice, some individuals who he described as economic saboteurs are still smuggling the commodity into the country.
"The land borders are hot now so the smugglers and other criminals are not using the land borders, they are rather turning to the waters but even there, they are not finding it easy. 
"The present administration is trying to make local rice available but some people who are economic saboteurs are not allowing us to do that. So we are still appealing to them to embrace legitimate business and stop smuggling    including cannabis because we are going to catch you and jail you," he warned.
The customs boss identified inadequate operational tools as a major challenge faced by the command. He however assured that the command will continue to work within available resources to carry out his mandate of securing the creeks and waterways.
"We have dilapidated boats but like I told you we have made report to the headquarters and they have promised to give us all the necessary tools to do our work but with the few ones we have, we were still able to achieve some modest seizures," he said.
On why the recently commissioned sea going vessels are not yet functional, Kebbi said it is because they are not armed.
He said, "A contract has been awarded for arming the vessels and within the next few months they will be handed over to us."  
Copyright 2017 Ships & Ports Ltd. Permission to use quotations from this article is granted subject to appropriate credit given to www.shipsandports.com.ng as the source.