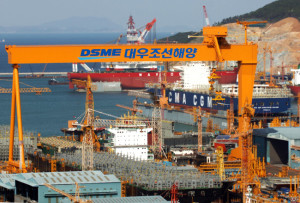 South Korea's Daewoo Shipbuilding & Marine Engineering Co Ltd on Monday won near unanimous approval for a debt-to-equity swap plan in the first three of five bondholder meetings, as the world's largest shipbuilder battles to stay afloat.
The votes were held hours after Daewoo's biggest bondholder, the National Pension Service (NPS), said it had agreed to the proposal. That move made it likely other bondholders would follow suit, creditor bank officials said, allowing the shipbuilder to meet conditions of a $2.6 billion bank bailout.
The shipbuilder has been pushed to the brink by the impact of historically low oil prices, which caused delays in payments for complex offshore facilities. At risk is an estimated 50,000 jobs and an economic hit of tens of billions of dollars.
Its predicament follows the bankruptcy and liquidation of compatriot Hanjin Shipping Co Ltd after creditors declined further support last year for what was the world's seventh-largest container shipper.
"Accepting the debt restructuring will be more advantageous to improve the fund's returns," NPS, the world's third-largest pension fund, said in a statement earlier on Monday.
Holders of about 1.5 trillion won ($1.32 billion) worth of Daewoo bonds must agree to swap half of debt owed to them for equity, and allow Daewoo to suspend repayment of the rest for three years, so Daewoo can meet conditions for $2.6 billion worth of financial assistance from state banks.
Five meetings have been planned for Monday and Tuesday to discuss the proposal. Agreement came from 99.99 percent of bondholders present at the first meeting where attendance reached 80 percent, 98.99 percent at the second with 89 percent attendance, and 96 percent at the third with 81 percent attendance.
The proposal is likely to be approved at all meetings as large bondholders such as Korea Post are likely to follow the lead of the NPS due to the fund's size and influence, creditor bank officials said.
The officials declined to be identified due to the sensitivity of the matter. Korea Post told Reuters it decided to agree to the proposal after the NPS agreement was made public.
The NPS is Daewoo's largest bondholder, with about 390 billion won worth of bonds, Yonhap reported.
It accepted the proposal after Korea Development Bank (KDB) and Export-Import Bank of Korea (KEXIM) agreed to store bond payments in an escrow account before bonds mature, and after they effectively pledged to pay bondholders before pursuing their own claims, creditor bank officials said.
"We decided to approve the proposal after considering KDB and KEXIM's measures reinforcing the repayment of bonds whose maturity will be extended," an NPS spokesman told Reuters.
The two banks have supported Daewoo with 4.2 trillion won since October 2015, adding to a state bailout in the late 1990s during the Asian financial crisis. To justify more, "all stakeholders must share the pain", the Financial Services Commission said when setting the debt-to-equity condition.
The government plans to sell its stake in Daewoo after shrinking the shipbuilder over two years to a company generating revenue of 7 trillion won from about 13 trillion won last year, KDB Chairman Lee Dong-geol said at a news briefing on Sunday.
Daewoo reported a net loss of 2.8 trillion won last year.  
Copyright Ships & Ports Ltd. Permission to use quotations from this article is granted subject to appropriate credit given to www.shipsandports.com.ng as the source.