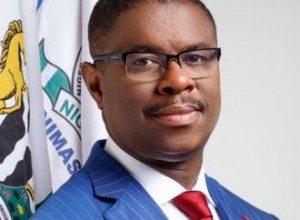 The Director General, Nigerian Maritime Administration and Safety Agency (NIMASA), Dakuku Peterside, has criticised Rivers State Governor, Nyesom Wike, over his recent revocation of the Certificate of Occupancy of Novotel Hotel in Port Harcourt.
Wike said he revoked Novetel's C of O because the hotel was allegedly being used by some leaders of the All Progressives Congress (APC) to rig the non-elective congress of the party, which took place on Saturday in the state.
"Any hotel that is used to rig elections, that hotel's certificate of occupancy will be withdrawn," Wike was quoted as saying on Monday while addressing the 106th Quarterly Meeting of the Rivers State Council of Traditional Rulers in Port Harcourt.
Dakuku Peterside, who lost the Rivers State governorship election to Wike, responded to the development by accusing the governor of exhibiting traits of fascism, adding that the action was a breach of the Nigerian Constitution and a violation of the governor's oath of office.
"Wike had sworn to uphold the Nigerian Constitution without fear or favour and ill will or malice against any citizen," Peterside was quoted as saying. "It is now left to Wike and his conscience to check whether he has been faithful to his oath.
"When I heard that Wike had revoked the C of O of Novotel Hotel, I thought it was a joke until I saw a statement to that effect.
"In his trademark style of governance, he denied the management of Novotel any opportunity to respond to any accusation. Wike alone was the accuser, prosecutor, witness and jury in this matter.
"It is sad that at a time when Rivers State needs every investment it can muster to create jobs for youths, arrest insecurity and stabilise social relationships, Wike is busy closing established multinationals, global chains and respected franchise to which Novotel belongs. In his maladministration, Wike blames everybody but himself for the woes that have befallen Rivers State since he shot into the Office of the Governor.
"It is part of a government's fundamental and social duty to create a conducive economic baseline for companies and firms to operate and expand their businesses while new ones are attracted. 
"Serious governments offer free land, tax rebate and other incentives to woo investors. But for Wike, his is to create joblessness and stifle companies struggling to break even," he said. 
"In this singular action, Wike must have pushed not less than 500 people into the labour market. The social and economic reactions would be dire on the families, the state and the country at large. He has also raised an adverse business advisory to would-be investors that Rivers State is not safe for investment.
"By the singular act, he advertised his contempt for hard work and industry.
"He twitched his nose against commerce. As a man who has no calculation of state interest in mind, he has added with his own hands to the pool of the unemployed in the state. It is a frightful omen of unemployment in the context of the rise of criminality, violence, gangsterism and cultism under his watch as the chief steward of River State," said the NIMASA chief.
Peterside is an ally of the Minister of Transportation, Rotimi Amaechi, who is engaged in a fierce political battle against the governor.
He was the APC governorship candidate in the state in 2015 and Wike's main opponent in the election.  
Copyright Ships & Ports Ltd. Permission to use quotations from this article is granted subject to appropriate credit given to www.shipsandports.com.ng as the source.