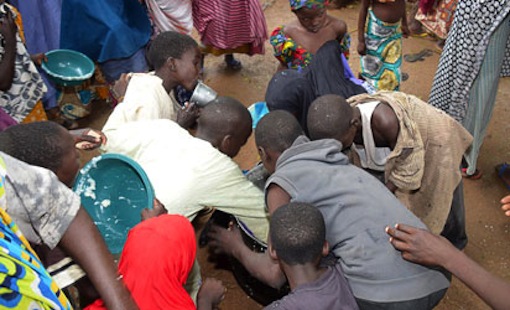 By Ace Omozuwa
When you read Oxfam International Commitment to Reducing Inequality (CRI) Index 2018, you are likely to start seeing political leaders in Nigeria as perpetuators of poverty. According to the report, Nigeria remains the worst performing nation with reference to governments' commitment to reducing the gap between the rich and the poor. The CRI Index 2018, which measures government initiatives on social spending, tax and labor rights, shows that Nigeria ranks 157th out of 157 countries surveyed. This is because Nigeria spends very little on healthcare, human capital development and social protection of the most vulnerable in society.
This implies that Nigeria is a trouble spot of economic injustices.  Acrimoniously discriminatory allocation of resources, in part, defines the character of the Nigerian state. CRI Index 2018 creates the impression that elected public servants are fanning the flames of poverty. Sadly, our leaders tend to posture as friends of the poor. During periods of elections, they "identify" with the poor. They seize fleeting moments spent with the marginalized to spin vote-wining photo stories; eating corns with roadside traders, riding Okada, fixing hairs etc. Their goal is to parade as champions of the cause of the poor.  However, when in power they make polices that victimize victims of poverty. If the celebrated philosopher, photographer, author of Camera Lucida, and other influential books, Roland Barthes, were to deconstruct the pictures, he may likely say: in front of cameras Nigerian leaders loom larger than Mother Theresa.
One of the fundamental functions of government is to deftly utilize policy instruments to create economic environment characterized by nondiscriminatory access to wealth-generating mechanisms. In fact, the cardinal objective of any democratic form of government and a free-market economic system is to ensure that the macrosocial and economic conditions support the flourishing of human dignity. This implies that austere economic predicaments that deny citizens opportunities for self-realization, make them to live subhuman lives is antithetic to the spirit of democracy and humane capitalism.
Democracy envisages that the custodians of the peoples' trust will use state institutions and instruments to eliminate barriers to opportunities. It anticipates that no citizen will be left in the lurch. This is not the case in Nigeria. Formidable obstacles to life-enhancing opportunities abound everywhere. Many Nigerians live on the extreme margin of existence.  For example,
the findings of 2016/2017 Multiple Indicator Cluster Survey (MICS) carried out by the National Bureau of Statistics (NBS), and the National Primary Healthcare Development Agency (NPHDA) in collaboration with the United Nations Children's Fund (UNICEF) shows that "69 million Nigerians or 1 in 3 (35.0 percent) of the population has no access to safe water while less than 1 in 10 (9.2 percent) of households drink safe water."
Poverty is a minelayer. It is a harbinger of widespread volatility. It is a threat to Nigeria's democracy. Democracy without equitable income distribution is a sham, a poor mutation of dictatorship. Unfortunately, the ruling elite in Nigeria is seemingly unmindful of the fact that democracy does not flourish when citizens are mired in the backwoods, exerting creative energies and time on how to assuage the terror of chronic deprivations, like lack of toilets.  According to WaterAid Nigeria, more than 120 million Nigerians lack access to decent toilets in their homes. The implication is that people defecate in the open. Such practice heightens exposure to diseases, like diarrhea, cholera, etc. Whatever endangers people's health most certainly endangers democracy.
Poverty in Nigeria is a threat to peace. The swelling prejudices of the poor against the political class are a time bomb that may soon rupture the hegemony, if remedial measures are not instituted. Their refusal to be permanent victims of unjust economic system, which keeps over 10 million Nigerian children are out of school, may assume untoward dimensions. Peace and injustice do not coexist, for long.  With the advances in peace studies, and appreciable public awareness of peace dynamics, it is anticipated that nobody will be deluded into thinking that the absence of violence means the presence of peace.
Poverty in Nigeria is a threat to all. Yes, it is a threat to the poor and the financial elite. The elite are not invulnerable to the destructive influences of poverty on the social tapestry. Beggars crowd around the elite whenever they step out of their plutocratic enclaves to metropolitan arenas of mundanity, like markets, theatres, weddings, and other social events. Those who have resorted to kidnaping as an escape route from poverty are on the prowl; they prey on the elite during their unguarded moments. Many other violent crimes point to the fact that the ravaging scourges of poverty cannot be confined to a certain social class.
Poverty often instigates a lapse from grace. It is a potential breeder of vices.  Nigeria's moral environment bears eloquent testimonies to this. Once upon a time, before poverty became rife, it was commonplace for traders and buyers to exchange values on the basis of mutual trust. To the extent that some traders cultivated the habit of leaving their wares unwatched. When a buyer comes he or she picks the needed commodity, drops the money, and moves on.
As we nudge and urge those in government to address the issues of income inequality and the highly complex set of institutions and social structures, which constantly erode savings, investments and technological gains, it is important to remind them of the words of the sophisticated embodiment of Ubuntu philosophy, Nelson Mandela. Mandela once said, "Poverty is not natural—it is man-made and it can be overcome and eradicated by the actions of human beings".
In view of our cultural setting, it is worthy of iteration: poverty is manmade. It is hardly a function of spiritual attack. It is a creation of the structures that underline global, national economic and political order. With a more humane global, national and local order, poverty will be confined to man's historical past.
It is critical to state that without strengthening citizenship and good governance, every noble quest geared at eradicating poverty in Nigeria will produce sub-optimum results. Citizens' inputs are key to social transformation, economic progress and political stability. Where citizens are docile, social maladies thrive, and the essence of governance will inevitably be perverted.
Docile citizenship fosters the emergence of a government of the few by the few and for the few. Perhaps, it is this type of government the adorable and fearlessly outspoken wife of President Buhari was alluding to, when she allegedly said that two powerful men have undermined the capacity of this administration to perform very well.
Integrity, accountability, transparency, which are the bedrock of good governance, are not guaranteed when citizens are not active. One implication of this is that public resources earmarked for lifting people out of poverty would be privatized by the powerful few. Worst still, they will not face the consequence of their abuse of office and public trust.
The point to note is this; without consciousness-raising on the ideals of active citizenship, Nigeria cannot effectively transform its inglorious estate of being the poverty capital of the world to become a first reference of inclusive prosperity, that is, the land of better life for all. Educated and involved citizens are the cornerstone of good governance, the eradicators of poverty, the engine of socioeconomic and political transformation. They have the knowledge to change economic systems, power relations, and social structures for improved wellbeing.
For government to demonstrate its commitment to reducing poverty, it is important for her to adopt a right-based approach to the fight against poverty.  Since, it is the right of every Nigerian to live above poverty. Nigerians have the right to material sufficiency. If government sees shelter as a human right, it will not be indifferent about addressing Nigeria's housing deficit put at 17 million.
Also, it is important that it should educate ill-educated political jobbers and deluded opportunists that describe campaigners for a low-poverty Nigeria as advocates of utopianism. For, indeed, every Nigerian can live above poverty.
Government should endeavor to fight poverty with ICT. It is an irony that even though more Nigerians have access to mobile phones than to decent toilets, the poor and marginalized have not yet sufficiently benefited from the widespread penetration of Information and Communication Technologies (ICTs), in the sense that, it has not been used as an instrument of reducing inequalities and increasing economic development for all.  Policymakers should make ICT a functional driver of quality and quantity of education, a transformer of health delivery, and a stimulus of agrarian reforms.
Civil societies have a big role to play if the flames of poverty will be extinguished in our nation. Since, giving voices to the poorest stimulates social transformation, this should be their primary role. They should create interactive platforms to ensure victims of societal malaise can set agenda for social change, participate in seeking solutions, and reclaim their dignity.
Copyright Ships & Ports Ltd. Permission to use quotations from this article is granted subject to appropriate credit given to www.shipsandports.com.ng as the source.