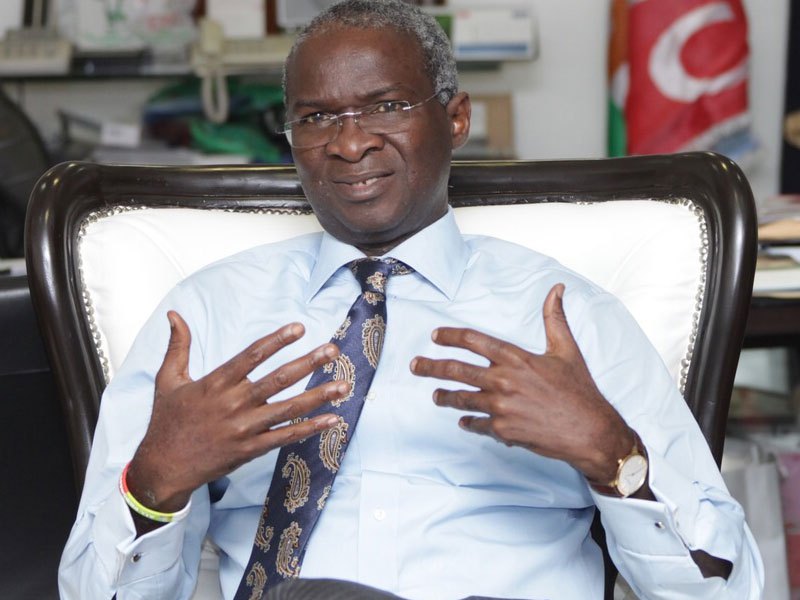 By Patience Danjuma
The Federal Government on Wednesday approved a contract worth N72.9 billion to the Dangote Group for the reconstruction of the road from Apapa to the tollgate end on Lagos-Ibadan Expressway.
The Minister of Works, Power and Housing, Babatunde Fashola, made this known to State House Correspondents in Abuja after the weekly Federal Executive Council meeting presided over by President Muhammadu Buhari.
Fashola said the decision was taken to provide a long-term solution to the road, which had suffered much gridlock in recent times.
"The Ministry of Power, Works and Housing secured approval for the reconstruction of the Creek Road Tin Can Island-Beachland right through to Oworoshoki to the toll gate end of the Lagos-Ibadan Expressway for the full reconstruction of that road which was built around 1975, as part of our first port expansion undertaken then in the 1970s.
"That road was intended to evacuate cargo out of Lagos without running through the spine of the city.
"The road is now in some state of disrepair and Council has approved its reconstruction at the cost of N72.9 billion," Fashola said.
According to the Minister, the work will be done using a public-private-partnership model.
He named Dangote Group as the constructing firm for the road project, saying that the N72.9 billion for the execution of the project would be recovered through the funding credit tax policy of government.
The Minister further said when fully constructed, the road will have 10 lanes — five on both sides, with a total of 270.8 linear kilometres, including drainage, rehabilitation of some of the bridges and interchanges.
"First, it will be done through PPP model. The constructing company will be the Dangote Group. It will be financing that construction to the tune of N72.9 billion as certified by PPP.
"Another instructive thing to note is that this is the first full reconstruction of that road since it was constructed at about 1975.
"All previous efforts had been to repair damaged sections. So, it is going all the way to reconstruct the road.
"The third thing to note is that the entire construction is that it involves procurement of 27.8 kilometres made up of 10 lanes – five lanes on both sides – three on the main carriage way, two on service lanes.
"So, essentially, you are constructing about 79.8 linear kilometres and that also include drainage and use of extensive cement work and rehabilitation of bridges.
"We expect contractors to move to site. This is our own long term solution to the problem contributed by the road congestion there.
"This will provide enduring solution to what is currently being experienced by commuters," Fashola said.
The Dangote Group is currently handling the repair of the Wharf Road in Apapa.
Copyright Ships & Ports Ltd. Permission to use quotations from this article is granted subject to appropriate credit given to www.shipsandports.com.ng as the source.