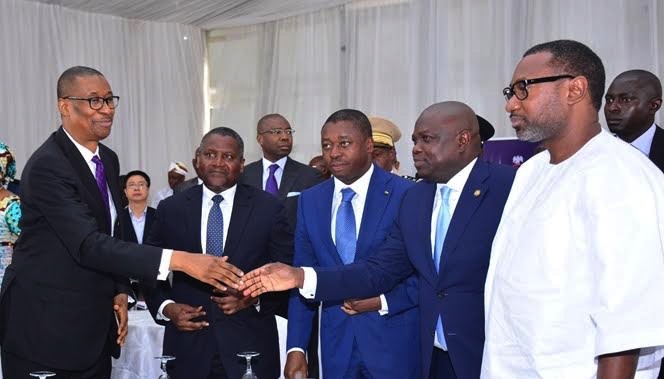 Lagos State Governor, Akinwunmi Ambode on Tuesday said the Dangote Refinery being developed at the Lekki Free Trade Zone (LFTZ) by Africa's richest man and business mogul, Alhaji Aliko Dangote will surely resolve fuel supply challenge in the West African region.
He said the refinery being sited in Lagos was another confirmation that Lagos is a prime investment destination, as the project would positively change the face of oil and gas business in the West African region.
Ambode, who spoke at the LFTZ during an extensive inspection tour of the Dangote Refinery by the Togolese President, Faure Gnassingbe, said the refinery eloquently attests to the fact that there is a positive investment climate in Lagos, which has resulted in massive investor confidence.
"This investment (Dangote Refinery) is one of the biggest in Africa today and will have a huge impact on the economy of not only Nigeria but the whole of West African region. This refinery, when completed, will be the largest single line refinery anywhere in the world refining 650,000 barrels of crude oil daily. Apart from creating jobs, this refinery will contribute immensely to solving the fuel supply challenge in the West African region," he said.
The governor expressed satisfaction with the level of work done on the project so far, saying that he was happy that a lot of progress had been made, while commending Dangote for his vision, doggedness and unwavering desire to contribute positively to the growth of the Nigerian economy, as well as his confidence in the Lagos economy.
Ambode said aside the fact that the project confirmed the positive investment climate in Lagos which had resulted in massive investor confidence, he also strongly believed that the future prosperity of West Africa was in collaboration between government and investors, which was why his administration had been working hard to encourage investment in the State.
He reiterated that Lagos was home to all nations, races and creeds, including substantial Togolese population, adding: "I'm positive that we are providing them with the opportunities to get ahead in their endeavors."
Ambode said as a prominent Head of State in the West African region, he was not oblivious of the interest of President Gnassingbe in the Dangote Refinery, adding that the project was one of the emerging opportunities in Lagos State.
While inviting Togolese investors to take advantage of the positive investment climate in Lagos, the governor said the State was open for businesses, and that his administration, in a bid to encourage investment, had massively invested in infrastructure and security of lives and property.
"Lagos is open for business. We are open to collaboration with the Togolese Government and investors to move our two countries forward. Our government is investing massively in creating infrastructure, which will support businesses and individuals. We have made huge investment in security and we will continue to ensure that the lives and property of all citizens are secured.
"We will remain partner in progress with all our investors. Our desire is for investors to invest in Lagos, grow their businesses, create wealth and jobs for our people and ultimately grow our Gross Domestic Product (GDP) positively," he said.
Nigeria's Minister of Industry, Trade and Investment, Okechukwu Enelamah said the Dangote Refinery project could best be described as a partnership between private sector and government at its best.
Enelamah commended Dangote for being not only Nigerian champion but champion of Africa with his massive investments and re-investments, which according to him, were creating jobs and growing the economy.
"We need champions and Dangote is a Nigerian champion; he is an African champion; he is also a role model. We need many examples and with the repositioning that the Federal Government is doing, we are going to see many more examples," Enelamah said.
On his part, Dangote commended President Gnassingbe for finding time to inspect the refinery, adding that he was happy with the interest and encouragement being received over the project.
"Apart from the refinery, there is also petrochemical, fertilizer and gas plant with daily production capacity of three billion cubic feet of gas which are being developed by the Dangote Group, all in one location," he said.
Some eminent dignitaries that participated at the tour include former governors of Ogun, Ekiti and Cross River States, Segun Osoba, Niyi Adebayo and Donald Duke respectively; billionaire businessman and Chairman, Zenon Petroleum and Gas Limited, Femi Otedola, members of the Lagos State Executive Council, among others.
Copyright Ships & Ports Ltd. Permission to use quotations from this article is granted subject to appropriate credit given to www.shipsandports.com.ng as the source.