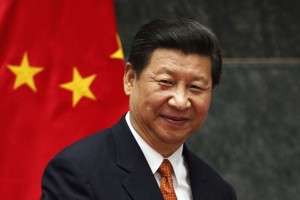 Chinese President Xi Jinping presented himself as a champion of globalisation Tuesday, lecturing the world elite in Davos on the dangers of protectionism and the futility of trade wars
The leader of the world's second largest economy became the first Chinese president to address the World Economic Forum, where 3,000 well-heeled delegates from government, business, science and the arts have gathered.
His appearance comes as populist protectionism is on the rise across Europe and in the US, where November's election of Donald Trump sent shockwaves through the global liberal order.
There is "no point in blaming economic globalisation for the world's problems," he said, saying that the process was not at the root of the Syrian refugee situation or the 2008 financial crisis.
"It's true that economic globalisation has created new problems, but this is not justification to write off economic globalisation altogether"
Globalisation should be "more inclusive, more sustainable," he said, adding that currently existing global institutions are "inadequate" and should be more "representative."
Xi's speech was highly anticipated by Davos attendees, a global club who have been caught off-guard by the rising sentiment against liberal trade regimes, and are looking for guidance in the face of an incoming Trump administration in Washington.
While acknowledging that globalisation was a "double-edged sword," Xi argued that the benefits far outweighed the negatives and there could be no turning away from international economic integration.
"The global economy is a big ocean you cannot escape from," he said, likening goods, services and capital to waters that cannot be channeled back into landlocked streams and lakes.
"Pursuing protectionism is like locking oneself in a dark room. Wind and rain may be kept outside, but so is light and air," he said.
"No one will emerge as a winner in a trade war," he added, in an oblique reference to Trump.
The incoming US leader has repeatedly accused China of carrying out trade policies that have led to massive US job losses and has threatened to slap tariffs of up to 45 percent on the country's goods.
Beijing is seeking to pick up the mantle of world economic leadership set to be shrugged off by Trump, who takes office Friday.
China supports building regional free-trade arrangements, and opposes those that are "exclusive" or fragmented, Xi said.
China is pushing two major trade pacts, the Regional Comprehensive Economic Partnership (RCEP) and the Free Trade Area of the Asia Pacific.
Xi added that China has "no intention" to boost its trade competitiveness by devaluing the yuan currency or launch a currency war.
Though Chinese leaders have repeatedly used international forums in the last year to assure foreign leaders that there is no basis for depreciation of the currency, the yuan has continued its slide, recently reaching eight-year lows, making the country's exports cheaper for trade partners.
The symbolism of Xi's speech was underlined by WEF chairman and founder Klaus Schwab, who said the world community was "looking to China" to provide responsible leadership and instill confidence.
"Whether people admit it or not, it's undeniable that China has taken the global leadership role in many respects," Lin Boqiang, professor at Xiamen University, told AFP. "You can talk about it or not, but that's what's happening in reality.
Copyright Ships & Ports Ltd. Permission to use quotations from this article is granted subject to appropriate credit given to www.shipsandports.com.ng as the source.