Hurricane Matthew killed more than 800 people and left tens of thousands homeless in its rampage through Haiti earlier this week before it lashed Florida on Friday with howling winds and rolled northward up the U.S. Atlantic coast.
The number of deaths in Haiti, the poorest country in the Americas, surged to at least 842 on Friday as information trickled in from remote areas previously cut off by the storm, according to a Reuters tally of death tolls given by officials.
Matthew, potentially the first major hurricane to hit the United States head on in more than a decade, triggered mass evacuations along the coast from Florida through Georgia and into South Carolina and North Carolina.
Southern Florida escaped the brunt of the storm overnight, but U.S. President Barack Obama urged people not to be complacent in the face of a storm that could be the most severe to strike northeast Florida in more than 100 years.
"I just want to emphasize to everybody that this is still a really dangerous hurricane, that the potential for storm surge, loss of life and severe property damage exists," Obama told reporters after a briefing with emergency management officials. "People continue to need to follow the instructions of their local officials over the next 24, 48, 72 hours."
Matthew had smashed through Haiti's western peninsula on Tuesday with 145 mph (233 kph) winds and torrential rain. Some 61,500 people were in shelters, officials said, after the storm pushed the sea into fragile coastal villages, some of which were only now being contacted.
At least three towns reported dozens of people killed in the hills and coast of Haiti's fertile western tip, including the farming village of Chantal where the mayor said 86 people died, mostly when trees crushed houses. He said 20 others were missing.
"A tree fell on the house and flattened it, the entire house fell on us. I couldn't get out," said driver Jean-Pierre Jean-Donald, 27, who had been married for only a year.
"People came to lift the rubble, and then we saw my wife who had died in the same spot," Jean-Donald said, his young daughter by his side, crying "Mommy."
With cellphone networks down and roads flooded by sea and river water, aid has been slow to reach hard-hit areas in Haiti.
The USS Mesa Verde, a U.S. Navy amphibious transport dock ship, was heading for Haiti to support relief efforts. A Navy spokesman said the ship would take heavy-lift helicopters, bulldozers and fresh water delivery vehicles. The ship has a surgical team and two operating rooms on board.
FLORIDA POWER CUTS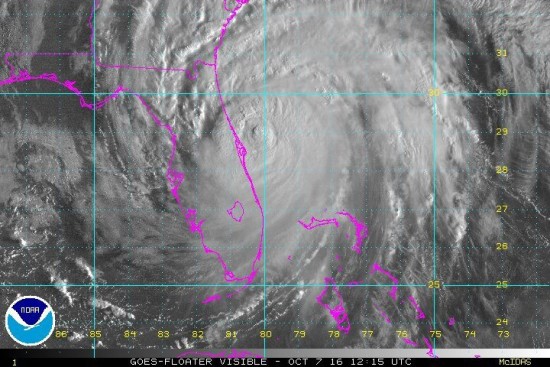 Matthew skirted Florida on Friday with winds of up to 120 miles per hour (195 kph), but did not make landfall.
The city of Jacksonville in the northeast of the state could face significant flooding, Florida Governor Rick Scott said. The storm had cut power to some 827,000 households in Florida, he said.
At 2 p.m. (1800 GMT), Matthew's eye, or center, was brushing the northeast Florida coast, the U.S. National Hurricane Center said. Its winds had weakened slightly to 115 mph (185 kph) and it was moving at around 12 mph (19 kph) on a path that would likely take it near or over the coast of northeast Florida and Georgia through Friday night and near or over the coast of South Carolina on Saturday.
No significant damage or injuries were reported in cities and towns in south Florida where the storm brought down trees and power lines, CNN and local media reported.
Craig Fugate, director of the Federal Emergency Management Agency, said he was concerned that relatively light damage in the south of Florida so far could give people farther up the coast a false sense of security.
"People should not be looking at the damages they're seeing and saying this storm is not that bad," Fugate told NBC. People should also be aware the hurricane carried more than just ferocious winds, he said.
"The real danger still is storm surge, particularly in northern Florida and southern Georgia. These are very vulnerable areas. They've never seen this kind of damage potential since the late 1800s," Fugate said.
In Cape Canaveral, Florida, home to the country's main space launch site, the storm downed power lines and trees and destroyed billboards.
Matthew lessened in intensity on Thursday night and into Friday morning, the National Hurricane Center said, but was still a Category 3 storm on the five-step Saffir-Simpson scale of hurricane intensity. Category 5 is the strongest.
The U.S. National Weather Service said the storm could be the most powerful to strike northeast Florida in 118 years. The last major hurricane, classified as a storm bearing sustained winds of more than 110 mph (177 kph), to make landfall on U.S. shores was Hurricane Wilma in 2005.
Damage and potential casualties in the Bahamas were still unclear after Matthew passed near the capital, Nassau, on Thursday and then moved out over Grand Bahama Island.
The NHC's hurricane warning extended up the Atlantic coast from central Florida through Georgia and into North Carolina.
In St. Augustine just south of Jacksonville, about half of the 14,000 residents have refused to heed evacuation orders despite warnings of an eight-foot (2.4- meter) storm surge that could sink entire neighborhoods, Mayor Nancy Shaver said in a telephone interview from the area's emergency operations center.
Even as power started to dim and water to the city was shut off in St. Augustine, the oldest U.S. city and a major tourism attraction, residents, especially elderly and the working poor, refused to budge, she said.
"There's that whole inability to suspend disbelief that I think really affects people in a time like this," Shaver said.
In addition to those who simply did not believe the storm was a major threat, some of the city's residents lacked vehicles or other means to evacuate, said Shaver.
Lack of means to move was one reason some people stayed in New Orleans before it was hit by Hurricane Katrina in 2005. The storm killed more than 1,800 people there and along the U.S. Gulf Coast.
About 22,000 people were in Florida shelters and more had moved inland or to the state's west coast, Scott said. Georgia and South Carolina had also opened dozens of shelters for evacuees.
South Carolina officials warned residents of potentially damaging flooding and storm surge once Matthew arrives there.
"There is nothing safe about what's getting ready to happen," South Carolina Governor Nikki Haley said.
Homeland Security Secretary Jeh Johnson and a senior FEMA official called both candidates for the U.S. presidential election on Nov. 8, Democrat Hillary Clinton and Republican Donald Trump, to brief them on Friday them about Hurricane Matthew.
Source: Reuters.
Copyright Ships & Ports Ltd. Permission to use quotations from this article is granted subject to appropriate credit given to www.shipsandports.com.ng as the source.