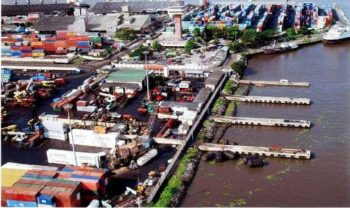 President Delta Association of Chamber of Commerce, Industries, Mines and Agriculture (DACCIMA), Simon Asite, has said that despite the promises made during the last visit of the Managing Director of Nigerian Ports Authority (NPA), Hadiza Usman to Delta Port, nothing has been done as the status quo remain.
Besides, he said although the NPA management gave DACCIMA and other stakeholders appointment to come to Lagos to discuss critical issues, all efforts made by the group to secure the appointment has proved abortive.
He told SHIPS & PORTS DAILY that Delta Port is critical to the growth of the economy and should be resuscitated without delay.
"When they visited, we were quite happy. There was meeting of stakeholders and we raised all the issues. The managing director promised that the organisation will swing into action immediately they get back to Lagos.
"I still believe they are working on the project but for me time is of essence. You will be alarmed at how much revenue the federal government has been losing because of the state of port. The port is in a very bad shape. The breakwater is broken down and ships are avoiding the port and the ones that come there round aground," he noted.
Recently a body known as the Shipping Trade Group (STG), Warri raised alarm over the dilapidated condition of the once boisterous Delta Ports in Warri, Delta State, saying that no fewer than 15 vessels have been grounded in the port channel in the past five months.
The group, in a letter the NPA MD said that the breakwater at Escravos is now completely submerged thereby destroying the buffer between the ocean and the river channel.
The development, according to them, creates room for siltation and negatively impacts on the port channel, restricting the draft to a maximum of five metres.
In November 2016, the group warned that "More than 15 vessels have gone aground at the Escravos entrance since June this year with its attendant demurrages, man hour loss, hiring of tugboats, and damages to ship propeller."
It said that there were no more buoys on the port channel, leading to "frequent grounding of vessels along the channel".
"The non-availability of functional pilot cutter in the Warri/Sapele pilotage district has reached an unbearable and disquieting point," it alerted.
STG said that since 2008, shipping companies operating in Delta ports have been paying for crafts to convey NPA's river and harbour pilots to and fro Escravos and Bennett Island because the company lacked the necessary facilities.