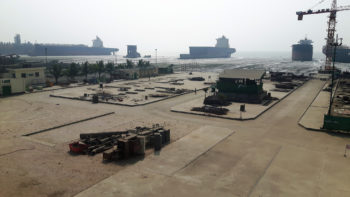 Denmark has become the seventh country to accede to the international Hong Kong Convention in an effort to ensure better protection of people and the environment when ships are recycled.
In mid-June the International Maritime Organization confirmed that Denmark expresses the wish to accede to the Hong Kong International Convention for the Safe and Environmentally Sound Recycling of Ships.
"Ships that have reached the end of their operational lives typically contain hazardous waste and they therefore have to be recycled under appropriate conditions," Esben Lunde Larsen, Danish Minister for Environment and Food, said.
With the Danish accession the Hong Kong Convention is now one step closer to entering into force. At least 15 countries, with a combined merchant fleet representing at least 40 percent of the gross tonnage of the global merchant fleet, must accede to the Convention before it can enter into force.
So far, in addition to Denmark, the countries to have done so include Norway, the Congo, France, Belgium, Panama and Turkey.
"With Denmark's accession to the Convention, we are sending a strong signal to other countries about the importance of giving high priority to safe and environmentally responsible ship recycling," Larsen added.
With support from more than 60 countries, the UN International Maritime Organisation (IMO) adopted the Hong Kong International Convention for the Safe and Environmentally Sound Recycling of Ships in May 2009.
When the Convention enters into force, it will obligate the countries that have acceded to it to have ships broken up at facilities complying with the requirements of the Convention and to compel shipbreakers and recycling companies to recycle ships in accordance with the requirements of the Convention.
We pay for your stories! Do you have a story for Ships & Ports? Email us at [email protected] or call 0810 359 4873. You can also WhatsApp us here. We pay for videos too.

 

Copyright Ships & Ports Ltd. Permission to use quotations from this article is granted subject to appropriate credit given to www.shipsandports.com.ng as the source.