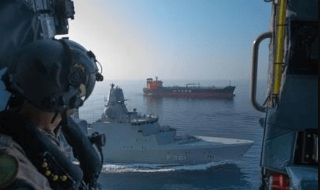 Denmark has agreed to send a Navy frigate to the Gulf of Guinea to combat the scourge of piracy and crew kidnappings in the region.
The frigate will have approximately 195 personnel, a Seahawk helicopter and maritime task force unit. The deployment is set to begin in November and last approximately five months, according to the Ministry of Foreign Affairs.
"The purpose of the Danish military contributions is to prevent and combat piracy and thereby create a safer framework for Danish and international shipping in the Gulf of Guinea," the Ministry of Foreign Affairs said in a news release.
"The tasks of the frigate contribution may include surveillance and reconnaissance, area protection, escorting ships, as well as search and rescue. In some cases, the maritime task force will be able to be deployed as a boarding team on hijacked ships, in rescue operations and in special reconnaissance missions."
The deployment of the frigate comes as piracy continues to run rampant in the Gulf of Guinea. In 2020, the International Maritime Bureau (IMB) Piracy Reporting Centre reported that 135 crew were kidnapped from their vessels in 22 separate piracy incidents in the region, representing 95% of the crew kidnappings reported worldwide during the year. So far this year, piracy incidents in the region have shown no signs of letting up, with 43% of all reported piracy incidents and 100% of crew kidnappings worldwide occurring in the region, according to the IMB.
Shipping association BIMCO has maintained that piracy in the region can be suppressed with as little as two frigates with helicopters and one maritime patrol aircraft to actively combat piracy in the area. Last week BIMCO helped launch the Gulf of Guinea Declaration on Suppression of Piracy, signifying an agreement that piracy and kidnappings are preventable through active anti-piracy operations, including law enforcement by non-regional naval forces.
"The Gulf of Guinea is a lifeline for Danish and international shipping. Unfortunately, it has also become a hotspot for piracy and attacks on civilian shipping. Denmark, as the world's fifth largest civilian maritime nation, cannot and will not tolerate this. That is why we are working both diplomatically and militarily to combat the massive challenges of piracy that we see in the area. It is an absolutely crucial effort for Danish exports and for the safety of our seafarers that we have now adopted," said Danish Foreign Minister, Jeppe Kofod.