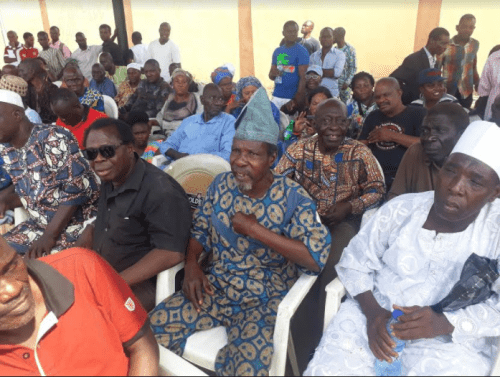 It was an atmosphere of anger and frustration amongst tally clerks and onboard security men on Monday, as the Nigerian Port Authority (NPA), despite assurances, failed to commence payment of the long- standing severance benefits to the affected workers.
President-General, Maritime Workers Union of Nigeria (MWUN), Comrade Adewale Adeyanju, had on Friday announced that NPA would commence payment of severance benefits to tally clerks and onboard security men disengaged from the port in 2015 from Monday (yesterday).
This came following approval for the release and payment of the fund by the Federal Ministry of Transportation.
But speaking with SHIPS & PORTS, some of the aggrieved workers, who converged in their hundreds at the NPA sports ground in Bode Thomas, Surulere, Lagos, expressed sadness over the turn of event. 
One of the workers, 78- year old Henry Ladipo, expressed dissatisfaction over the endless wait they were subjected to as most of the workers are old with various health conditions.   
He said, "For the past four years, the union has been telling us that NPA is the one delaying. We don't know who to hold if it is NPA or the union. We have suffered a lot on this matter. Some of our members came here since 5a.m. this morning when they said NPA will give us our money today, but we have not seen anyone up till this afternoon and nobody has communicated to us. We have been patiently waiting here even with some of our members who are on medication.
"I started this job since 1963 and despite all the suffering; they said they are going to pay us N400,000. How can we live with N400,000 for the rest of our lives? We want to know how much the government approved for us in the first place." 
Another worker, Emmanuel Adegbite said, "I borrowed money down here to pay transport fare. I have been here since morning, I have not eaten, and some are even sick and many have died amongst us. Now they say they are giving us N400,000 for four years, but to give us the cheque now is problem since morning till 3pm." 
Also speaking, Uduak Umoh, said over 50 of the would be beneficiaries have died while awaiting the government payment. 
He said, "NPA and the union should tell us why we are collecting N400,000 after how many years of service. We have ghost workers here who are also verified, we should not be more than 1,600 workers but because of the ghost workers we are over 3,000 here." 
When contacted, the President-General of MWUN, Comrade Adewale Adeyanju, said the delay in the disbursement of the fund is not from the union but with the NPA whose responsibility is it to settle the workers.
According to him, "It is not our making again; it is NPA that needs to credit the account of their employers, so it is their employers now and NPA and no longer the issue of the union again. We heard that may be before the end of today or tomorrow, NPA will credit the employers."
Concerning the payment of N400,000 as severance benefits to the workers, Adeyanju said, "The payment is for severance package and I expect that they should understand what severance package is. They did not have any condition of service because they fall under extra services and they are not even under NJIC. Although we fought it to ensure that the money is above N400,000 but the government said they can't go beyond this because they have collected money before when they were disengaged along with their contractors.
"But the union had to intervene and make sure that something is given to them, in fact they wanted to give them something lower than the N400,000 but it was because of the magnanimity of the Managing Director of NPA, who asked that they should adjust it and that is why they are getting that amount. We have done our best even though our best may not be enough for them they should appreciate our little effort."
Efforts to get NPA spokesman, Adams Jatto, to respond to delay in the disbursement of the fund proved abortive as calls put through to his mobile phones were not answered.