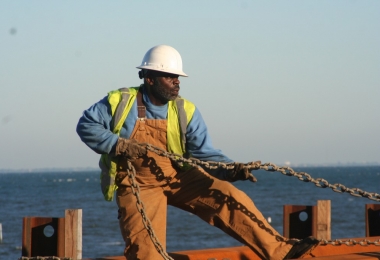 The National Association of Stevedoring Companies (NASC) said it is working towards signing a Memorandum of Understanding (MoU) with International Oil Companies (IOCs) to formalise the agreement reached between the Federal Government and the Maritime Workers Union of Nigeria (MWUN) with the IOCs over unpaid wages owed dockworkers employed by stevedoring contractors appointed by the Nigerian Ports Authority (NPA).  
It would be recalled that the Federal Ministry of Transport (FMOT) on August 1, 2019 convened a meeting with the IOCs and industry stakeholders where it issued a two-week ultimatum to the IOCs to pay all outstanding debts owed dockworkers.
Speaking in a chat with SHIPS & PORTS, NASC President, Bolaji Sumola, said although the two weeks ultimatum issued by the Permanent Secretary, FMOT to the IOCs had elapsed, there is progress in the level of compliance to the government's directive by the IOCs.
He said each of the IOCs, having accepted to work with the stevedoring contractors appointed by the NPA, will sign the MoU with the stevedoring firm assigned to them on both mode of payment and scope of work.
"We are still at it but there is improved exchange of correspondences. Although a timeline has been given and it has passed, but we have shifted from where we were before.
"A Memorandum of Understanding (MoU) is about being entered into and we will take it up from there. The MoU will include not only payment but the scope of work – what each party needs to do for the success of the running of the contract.
"They (IOCs) have accepted the stevedoring contractors appointed by NPA, which has been made clear as a point of law. They have accepted and we are moving to the next stage for the agreement to be formalized. The nitty-gritty of payment and when work would commence as well as how many men will be deployed will be contained under the MoU," he said.
MWUN withdrew its services and shut port operations across the nation's seaports last month over the dockworkers' unpaid wages by the oil majors.
The union had also warned that it would resume the suspended strike action if the IOCs failed to heed the Federal Government's directive.