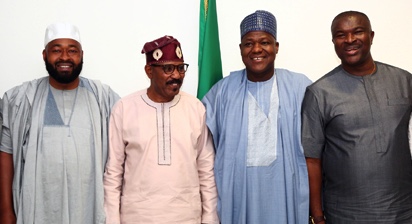 By Omotilewa Quadri 
Efforts by successive administrations to implement the national transport master plan that will see to the dredging of Nigeria's inland water ways could not be achieved because some powerful interests are opposed to it, Speaker of the House of Representatives, Hon Yakubu Dogara, has said.
Speaking when he received the Managing Director of National Inland Waterways Authority (NIWA), Senator Olurunnimbe Mamora in his office, Dogara disclosed that in the last three years, he had taken up the issue of implementation of the national transport master plan at different times and at the highest levels with different people but his efforts met a brick wall.
At a point, according to him, he was told that the Chinese had handed down a negative verdict on the project saying it was not feasible and useless.
Recalling how the national transport master plan was conceived by the Olusegun Obasanjo administration, Dogara said, "I was part of the development of the national transportation master plan. I don't know what has happened to that. How I wish we implemented that plan; by now we would have gone very far because the national transportation master plan vision is a seamless integration of a multimodal transportation into one hub, and I think at that time Baro in Niger State had been identified as the center for the hub. It is serviced by a railway that is connected to Minna and all you need to do is to construct a road and airport that will ensure connectivity and you will have access to the Atlantic Ocean through the River Niger. So everything was supposed to be put together in one place."
Speaking further, the House Speaker said, "I am aware that some people in the sector are of the opinion that we do not need the inland waterways transportation in this country. I have had discussions with some of them. Like I said, I have been advocate of this for long, and they said that the Chinese said it is useless, even if we develop it. But that's the irony, if you look at other countries who do not even have this potential for inland waterways transportation, they have even done man-made inland waterways and even lake. They have created artificial ones, while in this country, having been blessed with this wonderful resources by mother nature, by God, we tend to look the other way and believe they will not serve any useful purpose.
"There are some people within the sector who do not want some of these initiatives to see the light of day. But because I've converted myself so if they are fighting against you, they are fighting against me, and it would be very difficult for them to succeed because of the goodwill that propels us."
Dogara also highlighted some of the values that can be generated from inland waterways transportation.
"Imagine the millions of metric tonnes of goods that would be lifted off our highways and put on the berth of ships that would ply these inland waterways. That would mean our roads can last 50 years as it is in other climes. That would also translate into safety on our highways as well," he said. 
The Speaker said it was in realization of the importance of the sector that the House passed the NIWA Amendment Bill, which repealed moribund laws governing the agency's activities to enable it achieve its mandate. He said the bill is awaiting concurrence by the Senate.
Mamora commended the Speaker  for how he has been able to manage the House of Representatives and said he was in the Speaker's office to solicit his support and that of the House of Representatives in providing good governance and passage of the NIWA Amendment Bill.  
Copyright Ships & Ports Ltd. Permission to use quotations from this article is granted subject to appropriate credit given to www.shipsandports.com.ng as the source.