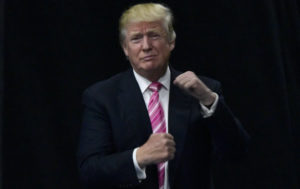 Globalization is accepted by developed and developing nations and it is all about breaking barriers to moving distance through business under common understanding and removing string barriers that brings about dichotomy and grievances. For the president elect to do that, is what is called conglomeration vis-à-vis information communication technology (ICT) and the human aspect of it is going into conventions and trainings  that will remove some of this barrier by collapsing them.  International trade should have been more active and recommended but because we are not applying it the way it should go that is why it isaffecting people here in Nigeria and this all fall under globalization. Bringing everybody on board is the simplest operation and that will take away hindrances that have existed which have to do with international and national protocols and trade laws of very nation.
I feel globalization should address the issue of origin because with ICT, every product have numbers that are coded which can be verified online, and also globalization promotes cooperative advantage; what you have that places you on advantage, you dwell on it for revenue. Let us not talk about the impact Trump is going to make now because America is thinking of the other countries that will be able to trade with them and they are not too comfortable doing business where security problems  prevails. For example, America will not like to do business with Nigeria because of security issue though they appreciate the fact that the problem is being discussed and looked into but there are still doubts. If one should talk about the impact then it is going to be about how Nigerian day to day business relationship with America is it going to be? Is it going to be moved forward or backward? I will say it is going to appreciate and that does not mean America will rely on the market in Nigeria.They are looking for alternative and that has started with what Nigeria is known for and Trump as a business man will always weigh options and business risks which call for security. If we are thinking that may be trade will soar high beyond what it is now, that I can't say because recession is not only in Nigeria, it is a global thing; just that we are having our own part of the cake now.It has been on since 2008 globally. It is really affecting us now because we didn't see it coming and it caught Nigerians unaware.
Eugene Nweke
It is possible the potential impact of a Trump's Presidency is being exaggerated. Ultimately, President Trump (when he so becomes) will work within institutional and legislative/statutory frameworks which align with the extant order. Where he desires changes, they will not be immediate – many will be subject to congressional debates and approval. If they are going against the grain of global expectations, the world will see it coming early enough and prepare adequately.
Commitments like those entered into earlier this year on climate change took years to arrive at through multi-interest representations and therefore cannot be simply commanded away by executive orders. And even where such is possible, I don't see America suddenly isolating itself from global trade. Fact is that the rest of the world can still do business without America and many other countries are waiting on the wings to take advantage.
Emeka Akabogu
The impact of Donald Trump will cause a lot. What I mean is that, a new world order is created. The nationalist will want to have their ways; trade protection by individual states as against free trade globally; recession may hit states globally. Collective negotiation on world peace will be disrupted. Refugees handling may shame human race; if we are not careful, Middle East equation will change for worse.
Captain Tajudeen Alao
The impact of Donald Trump election on globalization and trade shall depend on Trump's external policies towards other people.
Mkpandiok Ante Mkpandiok
Based on the extant literature on economic development and trade, globalization is a process of interaction and integration among the people, companies, and governments of different nations, driven largely by trade and investment and supported by information technology. Globalisation impacts on the environment, political systems and economic development.
Much as globalisation has been in existence since a couple of centuries, it has been currently strengthened by policies of the majority of world leaders through the opening up of their economies domestically and internationally, thus encouraging free trade flows between themselves and the rest of the world.
Therefore, any reversals or manipulations of those policies that enhance trade flows and investments by any country would adversely impact on globalisation.
During the US presidential election campaigns, Donald Trump was quoted as not being in favour of most of the trade policies – bilateral and multilateral agreements, etc., his country entered into with other nations. An attempt to scuttle these policies will witness retaliation from the countries on the other sides of the agreements, and this may lead to an era of isolationism, protectionism, which would negatively impact on trade and investment flows across countries.
We wait and see what happens after Jan 20, 2017.
Dr. Frank Ojadi
Copyright Ships & Ports Ltd. Permission to use quotations from this article is granted subject to appropriate credit given to www.shipsandports.com.ng as the source.