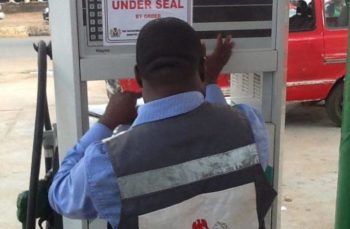 The Department of Petroleum Resources (DPR) on Friday said it sealed six petrol stations in Owerri and Ngor-Okpala in Imo state, for overpricing, under dispensing petroleum products.
The affected petrol stations were said to have obstructed the activities of DPR officials.
In addition, a cooking gas plant was also sealed by the DPR for operating without a proper licence.
The Operations Controller, DPR, South East, Peter Ijeh, explained in Owerri that the action was to ensure that petroleum product marketers complied with the government regulated price of N145 per litre of petrol.
"Our duty is to ensure that marketers comply with the government regulated price of N145.
"However, that is not always the case; so we routinely go round to monitor their activities. We also check to see if they are shortchanging the buyers by under dispensing.
"When this happens we ensure they adjust their meters properly, after they must have paid the fines for their offences," he said.
Ijeh added that the department also conducted routine inspection to check hoarding of petrol by marketers and that hoarders would be fined N200 for each litre of fuel hoarded.
He stated that the sealed stations would pay a fine of N100, 000 for each operational fuel dispenser at the time the station was sealed.
The DPR boss said further that violation of the seal would attract a fine of N1,000,000, while serial defaulters would be prosecuted and could have their licenses revoked or have their goods auctioned.
Ijeh also said the department would continue to be vigilant to prevent illegal activities by petrol marketers in the state.