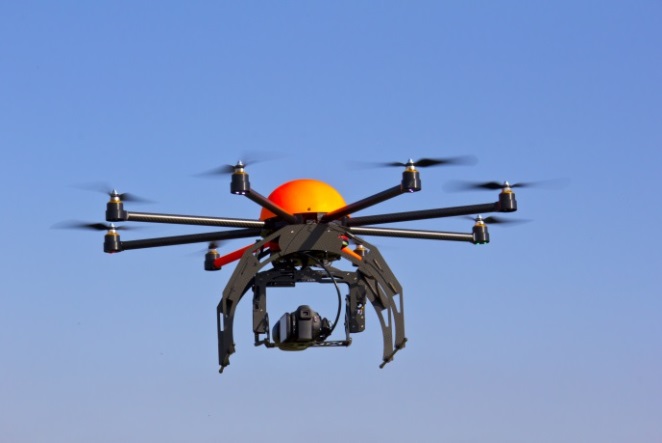 Unmanned aerial vehicles (UAV), or drones, as they are better known, are gaining in popularity in various industries, including shipbuilding.
Having in mind that time is money, shipbuilders are starting to adopt this type of technology to facilitate and speed up various construction stages, including inspection.
The latest example of putting a drone to a good use has been provided by Poland's Remontowa Shipbuilding, which has introduced a flying robot to inspect internal spaces of a ship following their overhaul, a pioneering move in Polish shipyards.
The inspection was carried out in the UK-flagged chemical and product tanker CPO Japan, which arrived at Remontowa on June 15 for its first five year class renewal overhaul.  The overhaul included maintenance of 12 ballast tanks and three slop tanks, hull cleaning and painting and engine repairs among others.
The drone, equipped with high definition camera (with own lighting), capable of recording HD video and still pictures, was dispatched inside one of the CPO Japan's cargo tanks and after a test flight it was determined that the drone was able to access all parts of the tank.
According to Remontowa, the drone was even able to rest against the bulkhead, while hovering.
"The contact with the tank wall is possible due to propellers being protected by special frames. The drone demonstrated excellent stability in confined space allowing for good quality visual inspection material recording," the shipyard said.
The vehicle is intended to be used for providing a surveyor with an overall impression of the state of the hull and bulkheads of a vessel under inspection. The technology may be also applied to inspection of external structures, such as masts or deck crane jibs.
The drone serves as means of visual inspection, mainly for surface (protective coating) condition assessment, i.e. corrosion and cracks detection. In many cases visual inspection results may rule out the necessity of conducting more detailed "hands-on" inspection such as ultrasound thickness measurements, etc., thus allowing to refrain from time-consuming setting up the scaffoldings, which in turn saves time.
"The experiments performed provided a promising outcome," Remontowa said, adding that since tests proved successful, the yard is willing to proceed with introducing this technology in commercial operations in selected, appropriate applications.
Remontowa has been preceded by Japanese shipbuilder Tsuneishi Holdings Corporation, which started testing  a V-cube to verify whether it would be possible to inspect equipment and gather information using live visual feedback acquired from drones (multicopters).
Tsuneishi hopes that this latest technology will help the yard increase efficiency at its factories and facilities, and also enable for a faster gathering of information in times of disaster.
In addition, Turkish Besiktas Shipyard has also been posting footage on its social media from its drone featuring vessels at the yard undergoing repairs.
Whether the technology is set to become a standard across the board remains to be seen, however; the latest examples show that it has the potential to save both time and money.
Copyright Ships & Ports Ltd. Permission to use quotations from this article is granted subject to appropriate credit given to www.shipsandports.com.ng as the source.