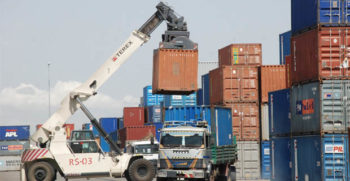 The Executive Secretary of Nigeria Institute of Export Operations and Management (IEOM), Ofon Udofia, has said investment in Inland Container Depots (IODs) will end the country's over-reliance on oil revenue.
Udofia made this known on Thursday at Obayantor near Benin when the management team of the institute paid a business visit to the operational base of Atlanque Marine Engineering Services (AMES) Edo ICD.
Udofia said ICDs would boost agriculture by encouraging investment in its value chains as well as export.
He added that aside from encouraging businessmen and farmers to invest in ICD projects like the AMES-Edo, the institute would ensure that the state was transformed to a hub of commerce and agricultural export through the collaboration.
He said in view of this, the institute would collaborate with the promoters of the AMES-Edo ICD to train youths, especially students, on money making opportunities in the export sector.
The Chief Executive Officer and Managing Director, AMES-Edo ICD,  Dr Charles Akhigbe, while receiving the team to the facility, acknowledged that the state government already held 20 percent equities in the project.
He said that by holding such equities, government was expected to provide road, power and land for the project.
Akhigbe said that when fully operational, the project would create the right environment for commence and reduce food wastage across the country to save up to four to N7 trillion annually.
According to him, the port was designed to be a port of origin as well as a destination port and would also have a special economic zone status.