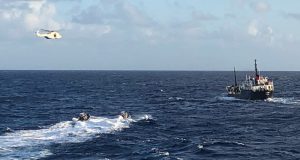 Dutch naval forces have intercepted a Tanzania-flagged merchant vessel carrying 1,600 kilos of cocaine aboard.
The suspected vessel was first spotted by an NH-90 helicopter, deployed with the Dutch naval vessel Zr. Ms. Van Speijk, on December 25. It was boarded by the US Coast Guard the next day. 
The officers conducted a search aboard the unnamed merchant vessel but did not find the illegal cargo.
The ship in question was then escorted to Santo Domingo, Dominican Republic, where another search was undertaken by the USCG law enforcement detachment (LEDET).
Following a thorough inspection, the officials located 1,600 kilos of cocaine hidden in a space between the fuel tanks aboard the ship on December 31.
The vessel, together with the illegal cargo and its seafarers, was transferred to the relevant authorities in the Dominican Republic for further investigation.   
Copyright Ships & Ports Ltd. Permission to use quotations from this article is granted subject to appropriate credit given to www.shipsandports.com.ng as the source.