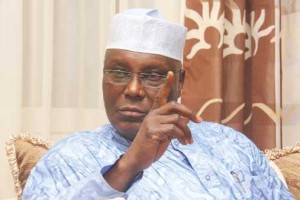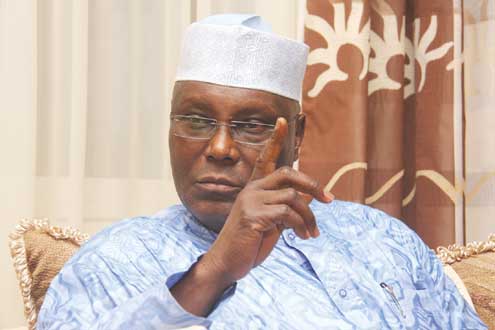 Former Vice President, Atiku Abubakar, has said the current down turn in Nigeria's economy has exposed the inherent weaknesses of our kind of Federal structure.
The former Vice President said this in a series of tweets in response to questions from some of his followers on his twitter handle @atiku on Thursday.
He used the opportunity to reiterate his argument that the country needs to reduce the Federal Government's control on the economy which he said would make government function more efficiently.
Atiku said, "Not only is our Federal Government too large, the economic downturn has exposed fundamental weaknesses. Yes, Federal Government duties need to be reduced/developed"
A twitter user, Ademola Babalola @ademola_babs who joined the conversation #Restructuring said, "Let's take the case of states receiving 13 per cent derivation from oil revenue. This has not had a visible effect on the masses."
In response to his tweet Atiku asked, "Can anyone suggest why, even when state governments with huge allocations fail, the people still attack the Federal Government?"
A tweeter user, Tunji Andrews @TunjiAndrews then asked Atiku, "As someone looking to lead Nigeria, I'd have thought you'd be telling us how to fix it not asking us."
In response, the former Vice President cited a personal example about his initial encounter with elementary school teachers.
He explained that at first he didn't like school because local teachers chose to "beat in knowledge" rather than explain.
In one tweet he said, "When we didn't understand the lessons, the teachers beat it into us. I didn't like school then, till I met American teachers.
"The American Peace Corps teachers engaged us students, asked questions and encouraged thinking that's when I loved school. I learned more under the US system, when teachers engaged and asked questions."
He further explained that his encounter with American volunteer teachers under the US Peace Corps changed his initial misgivings about education. This he said laid the foundation for him asking questions, which deepened conversations.
Atiku who likened Nigeria to a big house said big houses are harder to clean and as such if small home units are built and rented out to families there are likely to be mixed results but overall such a house is better kept because each house has been rented out to a family.
"The responsibility for that moves to the family and the landlord can only worry about getting his rent when due."
Yet in another tweet, the ex-VP said, "Our Federal Government can no longer afford to meet many obligations."
Copyright Ships & Ports Ltd. Permission to use quotations from this article is granted subject to appropriate credit given to www.shipsandports.com.ng as the source.