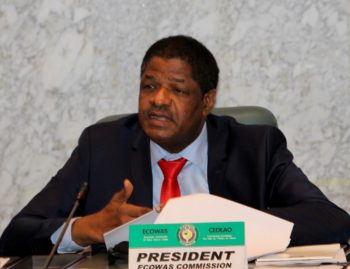 By Patience Danjuma 
The Economic Community of West African States (ECOWAS) has resolved to address impediments to free movement of goods and persons in the sub-region.
The President of ECOWAS Commission, Marcel Alain de Souza made this known on the sideline of the ECOWAS Annual Development Partners' Meeting in Abuja on Wednesday.
He said ECOWAS Heads of States had in Dec. 2016 agreed to set up a Presidential Task on free movement.
The task force was set up to ensure the enforcement of the ECOWAS Protocol on Free Movement of Persons, Residence and Establishment in line with the Vision 2020.
De Souza, however, said that the task force had a four-year mandate to resolve the challenges to the implementation and regulation of the laws by member-states.
"Between regulation and implementation, there is a gap.
"The task force has a four-year mandate and it has been about a year now since they started.
"They will be looking at corrupt practices in the course of implementing free movement at the borders, challenges to implementing the right to residency and the right to establishment.
"They have gone around eight countries and have seven countries left and essentially, they look out for obstacles to free movement on roads, ports and also the borders.
"When they complete their observation in all 15-member-states, they will come up with an action plan on free movement."
He further said the task force would continue to sensitise border officials to understanding and implementing the requirements of the protocols on free movement.
In his address, Edward Kallon, the UN Resident/ Humanitarian Coordinator and UN Development Programme Representative reiterated the support of the UN to the implementation the protocols of free movement.
Kallon said the International Organisation for Migration and the International Labour Organisation (ILO) supported free movement to develop policies and guidelines on border management, free movement, labour migration and labour migration information system.
"ILO is presently supporting the commission in developing its sub-regional Decent Work Programme and elimination of Trafficking in Persons by developing a tool to strengthen Law Enforcement coordination."
Mr Ketil Karlsen, Ambassador/Head of the European Union Delegation to Nigeria and ECOWAS said the EU's partnership with ECOWAS was to ensure poverty reduction in the sub-region.
Karlsen reiterated that the EU supported priority areas identified by ECOWAS with one billion Euros through its European Development Fund.
The fund would be for the period of 2014 to 2020.
"With the funding, we are supporting ECOWAS in the areas of peace, security and stability, infrastructure, trade and economic development and agriculture.
He further said it was essential to strengthen institutional capacities to address challenges to sub-regional integration.
The 12th edition of its annual coordination meeting would serve as the forum to enhance coordination with ECOWAS and development partners.   
Copyright Ships & Ports Ltd. Permission to use quotations from this article is granted subject to appropriate credit given to www.shipsandports.com.ng as the source.