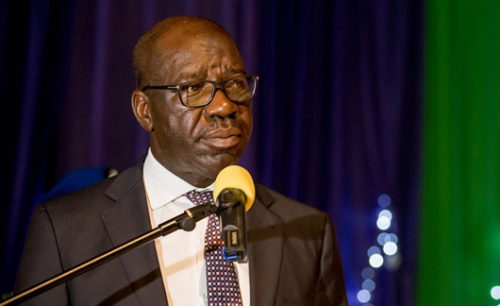 The Edo state government on Monday signed an agreement with a Chinese firm, China Harbour Engineering Company (CHEC) to build a port on the Benin River.
Governor Godwin Obaseki and the company's vice president Li Yi signed the agreement for both parties in a ceremony held at the Nigerian Embassy in Beijing, China.
Obaseki said the agreement was to build a port on the Benin River; dredge the river, which is a channel of about 40 kilometres; and build a link road to join the Benin bye-pass.
The proposed port would link Lekki deep sea port and help decongest the ports in Lagos, the governor said.
"The company we are working with is the largest investor in the Lekki deep seaport. So the Benin River port is going to be a sister port to the Lekki deep seaport. We expect that up to 30 per cent cargo going to the Lekki deep seaport would be meant for Benin port," he said.
He added that the construction of the Benin port would also provide opportunities to export agricultural and manufactured products being produced in the in the state.
"We are investing massively on agriculture particularly in areas like oil palm, rubber cassava, fruits and all range of agricultural produce which need to be processed and exported outside the country.
"There are companies operating in the state and are seeking to export their products. The port will provide opportunity not only to export agricultural produce but also some of the products that are now being manufactured in our area.
"Another advantage is that once you create the infrastructure, there is the possibility that other industries would spring up in the state. This opportunity is going to rapidly help in diversifying the economy of Nigeria," Obaseki added.
Copyright Ships & Ports Ltd. Permission to use quotations from this article is granted subject to appropriate credit given to www.shipsandports.com.ng as the source.