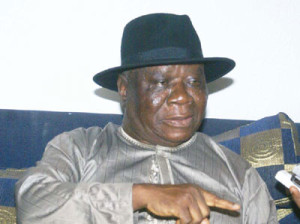 Former Federal Commissioner of Information and Ijaw leader, Edwin Clark, says Niger Delta militants are growing impatient with the federal government's handling of dialogue with the people of the region.
Speaking on Thursday at a meeting of Pan Niger Delta Forum (PANDEF) held at his Delta residence, Clark warned the current administration to act fast or risk watching everything get out of hand.
He commended President Muhammadu Buhari for acknowledging that dialogue is the solution to the attacks on oil assets in the region, and accused Femi Adesina, spokesman of the president, of insulting Niger Delta elders.
"When Mr. President gave his New Year message, he paid particular attention to peace in the Niger Delta," he said.
"He said he was prepared to dialogue with Niger Delta people. And he used the word, 'I am persuading', the second time he was using that word. So we congratulate him for the first time of agreeing that dialogue is the answer.
"So we are ready, but no impression should be given that they are still looking for people to negotiate with, because on the 1st November, last year, we met with him, we were about a hundred; traditional leaders, opinion leaders, youths, women, we all met at Aso Rock.
"We were therefore very happy when he decided that no armed conflict. November to January is a long time. We have been waiting and we were surprised that one of his media aides came to the television to say they are still looking for credible people to negotiate with. That's a grave insult to us."
He also condemned the violence in Southern Kaduna, calling on the federal government to show more interest.
"We are interested in everything happening in this country. We are particularly concerned about the killings in Southern Kaduna," he said.
"We condemn what is going on in the area. The federal government should show interest. Nigeria should have peace. Our economy is going down and it's only in atmosphere of peace our economy can grow.
"We are all Nigerians and we are all equal in this country. Nobody should pick religion or ethnicity in the affairs of this country. The federal government should as a matter of urgency arrest the situation before it turns out a full blown war," he said.
Other Niger Delta elders at the meeting said it appeared as if there was a deliberate plot to humiliate the family of former President Goodluck Jonathan.
They also described as worrisome the "seeming silence of President Buhari in the frequent harassment" of the former president's family members by the Economic and Financial Crime Commission (EFCC).
The elders demanded the urgent release of the over one trillion naira federal government under-contribution to the funds of the Niger Delta Development Commission (NDDC).
Copyright Ships & Ports Ltd. Permission to use quotations from this article is granted subject to appropriate credit given to www.shipsandports.com.ng as the source.