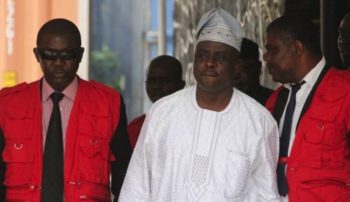 An Economic and Financial Crimes Commission (EFCC) investigation officer, Tosin Owobo, on Tuesday testified that three former Nigeria Air Force chiefs allegedly diverted N21 billion to their personal accounts from NAF.
He said they diverted the sum through several companies, which they registered personally.
He said none of the companies had any transaction or contract with NAF.
Owobo was testifying in the trial of a former Chief of Air Staff, Air Marshal Adesola Amosu (retd), former NAF Chief of Accounts and Budgeting, Air Vice Marshal Jacob Adigun and a former Director of Finance and Budget, Air Commodore Olugbenga Gbadebo.
They were arraigned before Justice Mohammed Idris of the Federal High Court in Lagos.
EFCC accused them of converting N21billion from NAF through various companies, namely Delfina Oil and Gas Limited, Mcallan Oil and Gas Limited, Hebron Housing and Properties Company Limited, Trapezites BDC, Fonds and Pricey Limited, Deegee Oil and Gas Limited, Timsegg Investment Limited and Solomon Health Care Limited.
Led in evidence by prosecution counsel, Rotimi Oyedepo, Owobo said N5.9billion was transferred from NAF accounts to Delfina Oil and Gas Limited.
He said after the money was converted to dollars, it was handed over to Gbadebo, who took it to Adigun, who in turn took it to Amosu.
He said Mcallan Oil and Gas Limited received N6.1billion from NAF, while Trapezites BDC Limited received N3.6billion.
Owobo said Deegee Oil and Gas Limited received N800million from NAF accounts, while Timsegg also got the same amount.
"These companies were not into oil and gas. The N21billion was moved from various NAF accounts without appropriation," he said.