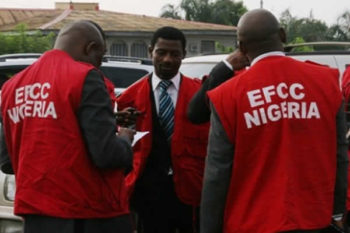 Nigeria's anti-graft agency, the Economic and Financial Crimes Commission (EFCC), has said that it had recorded over 647 financial crimes convictions from November 2015 till date.
The EFCC Head of Enlightenment and Reorientation Unit, Department of Public Affairs, Samin Amadin, made this known at the grand finale of Bounce Corruption debate competition for students of tertiary institutions in Abuja on Thursday.
Amadin said through the efforts of the commission, senior military personnel, lawyers, judges and many politicians are currently facing trial in law courts for corrupt practice.
He said, "Between November 2015 and November 2017, the commission has recorded 457 convictions.
"From December 2017 till date, EFCC has also recorded another 190 convictions of persons that have deprived Nigerians of their nation's wealth.
"In less than three years, the commission has also recovered N500 billion from those who have looted the nation's treasury."
Amadin said it was good that youths in Nigeria had gotten themselves involved in public integrity debates to tackle corruption alongside government.
He said the EFCC would continue to collaborate with youth groups like the Youth Initiative for Advocacy, Growth & Advancement (YIAGA) and the MacArthur Foundation to strengthen anti-corruption fight in the country.
Also speaking, Cynthia Mbamalu, the Program Manager, YIAGA, organisers of the event, lauded the commission for its successes in the fight against corruption.