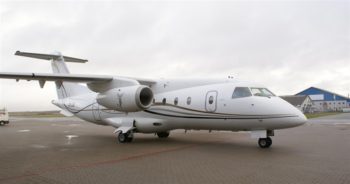 The Economic and Financial Crimes Commission (EFCC) has impounded a N948million aircraft allegedly linked with a former governor of Borno State who is under investigation.
The aircraft was seized on Monday at the Maiduguri International Airport.
Anti-graft agencies have also placed two other private jets under surveillance at the Nnamdi Azikiwe International Airport in Abuja.
The grounding of the three aircraft is part of the ongoing investigation, which traced some looted funds by some former political office holders to the purchase of private jets.
It was learnt that a Dornier aircraft 328 linked with the former governor had been earlier impounded, but it resumed operations without EFCC's clearance.
Upon sighting the aircraft in Maiduguri on Monday, after months of watch-listing, EFCC detectives swooped on the crew and seized it.
The plane is marked N805PG and 5NBMH. It allegedly belongs to Skybird Air.
Detectives have interrogated the suspected beneficial owner of the jet, Samuel Ayodele, the Managing Director of Skybird.
A "beneficial owner" is a legal term where specific property rights ("use and title") in equity belong to a person even though the legal title of the property belongs to another person.
Two other jets, suspected to belong to some former political office holders, have been placed on surveillance at the Nnamdi Azikiwe International Airport.