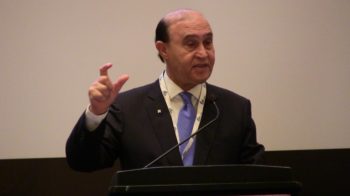 Egypt has banned all Qatari vessels from entering the Suez Canal Economic Zone in line with the country's decision to bar Qatari ships from Egyptian ports in the aftermath of the severing of ties with Qatar.
However, the passage through the Suez Canal has not been affected and it is allowed to all vessels/flags/nations subject to compliance with conditions stated in the present rules of navigation, as this is an international waterway.
The announcement was made by the Suez Canal Chairman, Mohab Mamish, last Friday, who ascribed the decision to maintaining of the country's national security.
According to Mamish, quoted by local media, under the Constantinople 1869 agreement, it is illegal to ban ships coming from any country from passing through the Suez Canal, and especially since the Qatari ships passing through the waterway are loaded with gas.
The SCZone comprises four development areas and six ports.
Separately, Qatar's Energy Minister Mohammed al-Sada said that Qatar's exports of liquefied natural gas (LNG) to Japan, India, South Korea and China have not suffered as a result of the boycott by the four Arab states, Aljazeera reports citing a statement from the minister.
As explained, exports to the four Asian countries accounted for nearly three quarters of the country's total exports, while exports to the United Arab Emirates, Saudi Arabia and Bahrain accounted for less than eight percent.