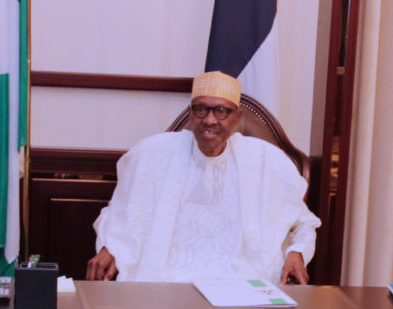 President Muhammadu Buhari has urged Nigerians to jettison their differences and push for unity as Muslims mark the celebration of this year's Eid-El-Kabir.
In a statement released by the State House on behalf of the president, Buhari also congratulated Nigerians who are currently in Saudi Arabia to participate in the rites of the Hajj.
He also thanked Nigerians for praying for his recovery.
''Indeed, your fervent and sincere prayers, which cut across religion, political and ethnic divides, has energised me to re-dedicate myself and this administration to the task of building a great Nigeria.
''As we celebrate, I sincerely believe that our nation can make rapid progress on all fronts if we re-enact the exemplary virtues, typified by Prophet (Abraham) Ibrahim, through his sacrifice, patience, steadfastness, generosity and obedience to Allah's command and constituted authority.
''We must learn to see ourselves as brothers and sisters from the same heritage, who must come to terms with the African proverb that ''a family tie is like a tree, it can bend but it cannot break.''
Also, the Speaker, House of Representatives, Yakubu Dogara, also felicitated with Nigerians on the celebrations urging for unity and peace to prevail.
Equally, Governors of Enugu, Lagos and Delta states: Ifeanyi Ugwuanyi, Akinwunmi Ambode and Ifeanyi Okowa and other prominent Nigerians felicitated with Muslims in Nigeria on the Sallah celebration.
Dogara in a statement signed by his Special Adviser on Media and Public Affairs, Turaki Hassan, Thursday, said the period called for sober reflections.
"I enjoin you to use the period to uphold the spiritual benefit of the celebration by extending a hand of friendship and solidarity across all divides and imbibing the spirit of sacrifice and obedience to the higher authority as exemplified by Prophet Ibrahim and upheld by Prophet Muhammed.
"This is an opportunity for us to reflect and pray for our nation; pray for our dear President for God's guidance and good health and pray for all those in leadership positions so that God in his infinite mercy will continue to guide them as they steer the affairs of the country," Dogara said.
In his message, the Lagos State Governor, Akinwunmi Ambode, also congratulated Nigerians.
"The significance of the season should be beyond the festivities but towards a sincere commitment to righteous conducts in private and public lives," the governor said.
"As we celebrate this auspicious occasion, let us renew our faith in our nation and implore the almighty God to restore to us those values that place high premium on human life, love of neighbour and sharing even as we ventilate our faith in the unity of our dear country. This period requires more patience, fortitude, tolerance, endurance, patriotism and a greater willingness to make personal sacrifices for the good of all." Also, the Minister of Mines and Steel Development, Kayode Fayemi, urged Nigerians to continue to uphold the lessons of love, loyalty and sacrifice which are the hallmarks of the festival.
"We can collectively confront our challenges as a nation and build a truly peaceful and prosperous Nigeria by acknowledging the supremacy of God, demonstrating genuine love and respect for one another and commitment to peaceful living," Fayemi said in a statement.
Meanwhile, the All Progressives Congress (APC) in a statement signed by its national chairman, John Odigie-Oyegun, advised Nigerians to eschew all forms of violence, live in peaceful co-existence and be their brother's keeper.
"Recently, the nation has witnessed some agitations with the potential of undermining the unity and our relationship across religious and ethnic divides. As a party, we believe it is in our collective interest to support and remain steadfast to the cause of a united Nigeria as our strength remains in our diversity," the party said, Thursday.
Former Vice President Atiku Abubakar, in his own goodwill message waxed philosophical saying that protecting the image of Islam is the greatest challenge facing the Muslim faithful today in the light of the activities of extremists "who are bent on destroying every humane virtue of the religion."
He called for "rigorous scrutiny and vigilance to guard against the influence of extremism, including exposing innocent students and followers to their virulent ideas."
He advised parents to be wary of letting their children follow any preacher and thereby, falling victims of indoctrination, warning that "poisonous ideas are as destructive as a bomb."
Former president of the Senate, David Mark, also canvassed for justice, righteousness and peaceful coexistence among Nigerians as they celebrate the season.
Mark, in a statement, asked authorities at all levels to cultivate "a peace building mechanism for the various groups so that the present misconceptions in some quarters would not snow ball into bigger crises." The Eid-el-Kabir celebration kicks off on Friday. Friday and Monday have been set aside as public holidays for the celebration.  
Copyright Ships & Ports Ltd. Permission to use quotations from this article is granted subject to appropriate credit given to www.shipsandports.com.ng as the source.