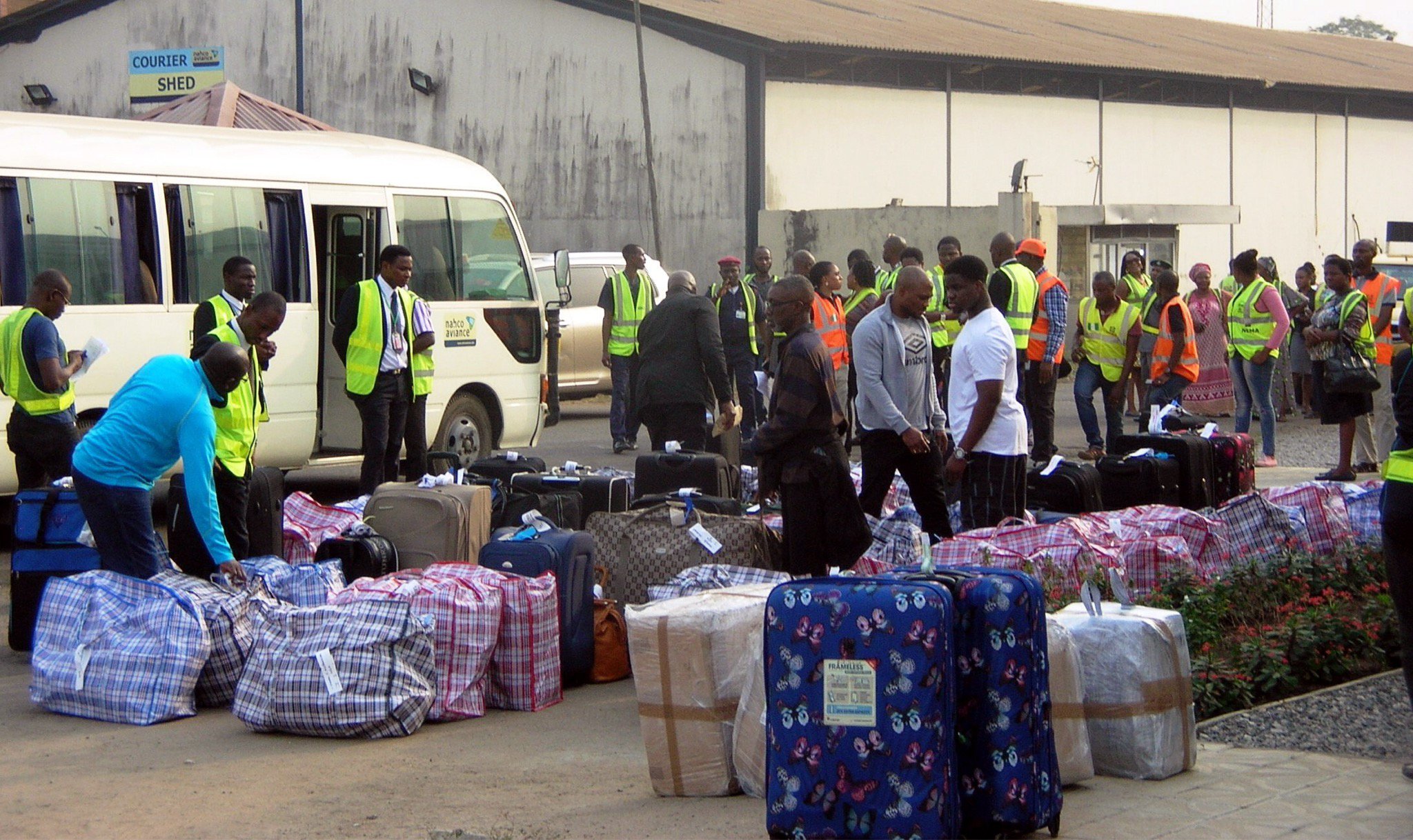 An unusual drama played out early morning yesterday at the Murtala Mohammed International Airport (MMIA) when 41 Nigerian and 41 Ghanaian deportees from the United Kingdom landed in an unmarked Airbus 330.
As soon as she got down from the aircraft which also conveyed the 41 Ghanaian deportees, a Nigerian woman in her 60s began to shout for joy exclaiming that she was happy to be home at last.
The 82 Nigerians and Ghanaians were deported from Britain over immigration issues classified as offences in the English laws.
The Nigerian deportees made of 33 males and eight females, arrived the cargo section of MMIA, Lagos at 7.50am, in an unmarked chartered Airbus 330 aircraft.
Eye witnesses said most of the deportees were downcast, but the unidentified woman alighted from the airplane, raised her arms in jubilation, saying, "This is my country. I will make it here in Nigeria. I thank God for bringing me home safely", as she walked into a waiting Coaster bus provided by Nigeria Aviation Handling Company Plc (NAHCO).
It was learnt that the deportees were kept in custody of the British government since October 2015 over issues related to illegal entry papers, family problems and expired stay among others.
Their Ghanaian counterparts were first taken to Accra. Some of the Nigerians landed in high spirit and were seen going to pick their baggage after they were profiled by the Nigeria Immigration Service (NIS), National Emergency Management Agency (NEMA) and other security personnel at the Lagos airport.
Few others had small package to carry after due profiling by the receiving Immigration and NEMA officers.
Over 30 British security operatives escorted the deportees to the country.
The Director General of NEMA, represented by the Deputy Director, Search and Rescue, Dr. Bandele Onimole, said the Federal Government had been in touch with its British counterparts, towards reuniting the deportees with their families in Nigeria.
Onimole, however, emphasised that the returnees are not prisoners, but deported for violating immigration laws.
According to him, "The reason, according to British High Commission, is that they are being brought back for immigration offences, and as a responsible government we cannot allow our citizens to enter into the country and start finding their way.
"So, it is our responsibility as NEMA, on behalf of the Federal Government, to ensure that they are well received and we need to talk to them and make them realise that the country they left some years ago, is not the same they are meeting it; we have moved ahead.
"Here and today, everyone has equal opportunity to be the best you can be. In whatever trade or learning, ensure you carve a niche for yourself in Nigeria. Where we tend to go to for greener pastures, after all, were developed by their own persons. So we should be able to stay back here and ensure we develop our own country," Onimole said.
While the immigration officials had them profiled, NEMA offered them stipends for feeding and transportation to their various communities within the country.
"There are no prisoners on board this aircraft, you may have heard that but the Nigerian government through our high commission in United Kingdom are working on the possibility of assisting those ones to get off the hook and come back home," he added.
Copyright 2016 Ships & Ports Ltd. Permission to use quotations from this article is granted subject to appropriate credit given to www.shipsandports.com.ng as the source.