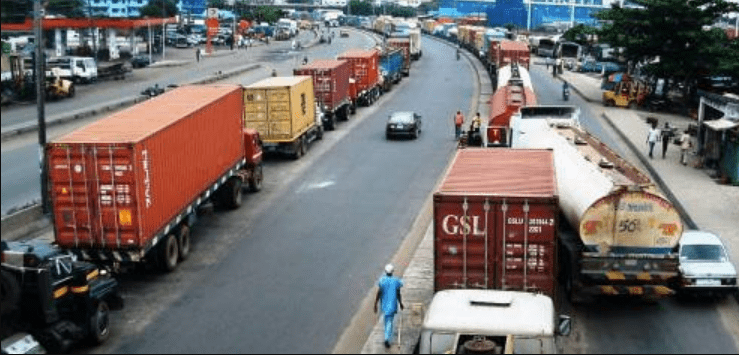 The Council of Maritime Transport Unions and Association (COMTUA), the umbrella body of all various truck owners union in Nigeria, has warned of an imminent rise in the cost of haulage, which will see importers and clearing agents pay more for deliveries following the nationwide #EndSARS protest and the subsequent 72-hour curfew imposed by the Lagos State government last week.
Port activities at the Lagos and Tin Can Island Port Complex were last week disrupted by youths and truck drivers protesting police brutality and extortion, a development which halted evacuation of cargo from the port and the subsequent burning down of the NPA headquarters in Lagos.
Speaking with SHIPS & PORTS, Chairman of COMTUA, Ogbogo Aloga, said some truck drivers are still apprehensive to resume operation as some trucks belonging to union members were destroyed during the #EndSARS protest.
This, he said, will fuel a hike in cost of haulage because according to him, the number of trucks needed will not be available to meet demand.
The COMTUA Chairman also expressed fears of possible congestion at the ports in Lagos, as importers and agents would be unable to take delivery of their cargo.
"Some trucks were burnt in different parts of the country and as a result, the truckers are becoming very apprehensive. They may not want to bring their trucks because of insecurity and we may witness a hike in cost of haulage because the number of trucks needed will not be there to meet the demand. Again, by the time trucks start rushing to the port, the security agencies around the corridor will also take advantage of that because so many things have gone wrong.
"There is also likelihood of port congestion because cargo is not moving out. The vessels on the high sea are also apprehensive because they are not getting good signals."
Aloga, who expressed concern over the poor condition of the port access roads, urged the government to be proactive and see how they can restore sanity in the sector within the shortest possible time.