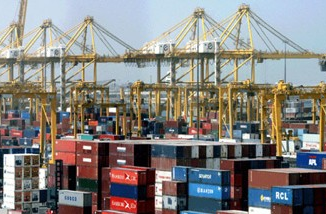 Nigeria's maritime sector is an overlooked gold mine. It is capable of becoming a key engine of economic development, if enhancive strategies are implemented for optimum efficiency. Happily, the Federal Government is aware of this fact. In April 2018, President Muhammadu Buhari disclosed that his administration is poised to reposition the sector "as the country's main economic driver and fulcrum for diversification." He made this disclosure at the launch of a book by the Executive Director, Finance and Administration of the Nigerian Maritime Administration and Safety Agency (NIMASA), Bashir Yusuf Jamoh, "Harnessing Nigeria's Maritime Assets – Past, Present and Future".
However, government's awareness of the sector's tremendous capacity to drive sustainable national development has not inspired extensive and constructive reforms, restructuring and repositioning. Rather, the sector is under performing. According to the chairman of Nigerian Ports Consultative Council (NPCC), Otunba Kunle Folarin, "the last 20 years the maritime industry has seen gradual decline."
The declining state of the maritime sector is not beyond redemption. Identification of problems is an essential precondition for providing effective solutions. It is easier to cure any ailment that is rightly diagnosed. Happily, the problems retarding the growth of the sector are not mystery. They are well-known open secrets.
At the twilight of last year, SHIPS & PORTS DAILY, Nigeria's leading maritime newspaper, sought to know from industry experts how the industry fared in 2018. Expert consensus was that the maritime industry achieved subpar results. More importantly, varied reasons were stated why the performances were not impressive. Some of the reasons are external problems, which are beyond the control of leaders in the industry, while others are internal.
An industry expert, Helen Majemite, succinctly captured some of the external problems: "Look at the Apapa port road; it is in shambles. Containers are falling off trucks, on innocent people and causing a lot of gridlock and the government is complacent about the situation. The call for a Truck Transit Park has not been attended to. I hope that if the required port facilities, good access roads and cost of doing business are friendly compared with other countries; the maritime industry will surely generate more revenue than oil."
Also, some industry players noted that the venal nature of some security agencies diminished the capacity of the maritime sector to be a key driver of Nigeria's economic development. According to Mr. Oladipo, "Cargoes are trapped in the port for months mostly due to the deplorable condition of the port access roads. Again, some securities agencies under the guise of regulating traffic, have turned it to be money-making venture." Others noted that the maritime sector did not contribute its utmost to Nigeria's economy, because, regulatory agencies could not perform efficiently due to government's policy and paucity of funds.
From the foregoing, it is evident even to the dyed-in-the wool optimist that the times are rough and tough for the maritime industry. Well, there is a silver lining in the cloud. Sustainable businesses are mostly developed in the furnace of adversities. It will take perspicacity, resoluteness, dedication to excellence, networking to reposition the maritime sector for optimum efficiency, and enhanced revenue generation. Like George Eliot said, "It will never rain roses: when we want to have more roses, we must plant more roses."
By nature, planters see beyond now. Being future-minded they endure pains, delay gratifications, and thereby, secure the prosperity of posterity. Metaphorically speaking, those who will plant roses in the maritime sector must evince mental celerity, shun opportunistic tendencies and crab syndrome, and build bridges.
The needed enhancers of the maritime sector must be deft at dealing with bureaucratic complacence. This is because, some regulatory agencies in the sector exude a sense of self-satisfaction that blinds them to looming dangers.  The pecuniary benefits they derive from awarding contracts have made them to relegate regulatory activities to the margin. It is doubtful if the claim by the Hon. Minister of Transport, Chibuike Rotimi Amaechi, that, "the Nigerian Maritime Administration and Safety Agency (NIMASA), which has been so far transformed from a contract-awarding agency to a true industry regulator" will pass a rigorous test of truth. Well, the point is, rosy government-contractor relationships must not be allowed to undermine the capacity of regulatory agencies.
We cannot enhance the maritime sector in Nigeria without strengthening our security architecture. The first quarter 2018, Q1'18, reports of the International Maritime Bureau (IMB) showed that "Nigeria leads in global pirates attacks against vessels." Even though, maritime security experts have contested the verity of this report, one thing is clear: Without rethinking ways of protecting the maritime assets of Nigeria, true progress will be stifled.  It is therefore imperative to ask NIMASA to forge more rewarding collaborative ventures with security agencies. If the volatile Lake Chad region is stabilized Nigeria's economic fortunes will be enhanced.
Similarly, to enhance the efficiency of the maritime sector, security agencies should do all they can to ensure that the venalities of their operatives are extirpated. Otherwise, they will compromise national security, endanger growth, and make the business climate of the maritime sector hash and volatile.
It is important to call on government to put the development of the maritime sector on top of its priority list.  Nigeria remains about the only country that has failed to achieve the United Nations 48 hours cargo clearance time. This failure is, in part, due to bureaucratic lukewarm-ness, inconsistent policies, faulty and obsolete scanners, and inter-agencies rivalry at seaports. Hence, it is important for government to restructure and properly regulate the Nigerian port industry to ensure supply chains do not slow down, because of port congestion.  If we can possibly compute the social, psychological, and economic cost of slowing down supply chain, we will do all we possibly can to ensure adherence to UN stipulated 48 hours cargo clearance time.
Government's commitment to making the maritime industry the nation's "main economic driver and fulcrum for diversification" will remain questionable as long as urgent actions are not taken to permanently end Apapa nightmarish gridlock. Paying lip service to the centrality of the maritime industry to sustainable development in Nigeria is a disservice to the nation. Sham rhetoric is not a recipe for economic progress. If Nigeria must be great, roads must be constructed, commuting must not induce war-like stress.
External forces alone cannot drive lasting progress. History and contemporary realities affirm the fact that; in all spheres of life endo-centric forces are the best drivers of development. Hence, it is imperative for stakeholders in the maritime industry to strategically engage in more synergistic activities. Without consistent stakeholders' dialogue certain obstacles cannot be surmounted and new paths of growth cannot be forged.  For example, the issue of port congestion in Nigeria cannot become a thing of the past without practitioners playing leading roles. At best, others could theorize about it. But practical solutions can only be proffered by professionals, particularly, when they network for problem-solving, and information sharing.
Most often, governments around the world fail to do the needful. Hence, professional pressure groups exit to ensure government does not herniate in times of crises. Towards this end, groups like the Seaport Terminal Operators Association of Nigeria (STOAN), Shipowners Association of Nigeria (NISA), Shipping Association of Nigeria (SAN), Manufacturers Association of Nigeria (MAN), Lagos Chamber of Commerce and Industry (LCCI), Association of Nigerian Licensed Customs Agents (ANLCA), National Council of Managing Directors of Licensed Customs Agents (NCMDLCA) and the National Association of Government Approved Freight Forwarders (NAGAFF), among others, should rise above internal bickering. They should effectively position themselves as professional pressure groups. They should join forces together with the key aim of influencing government policies and program in ways that enhance the overall efficiency of the maritime sector. If they master the art of speaking with one voice and acting in unison, government will reckon with them, do their biddings and in no time address the series of challenges facing the maritime sector.