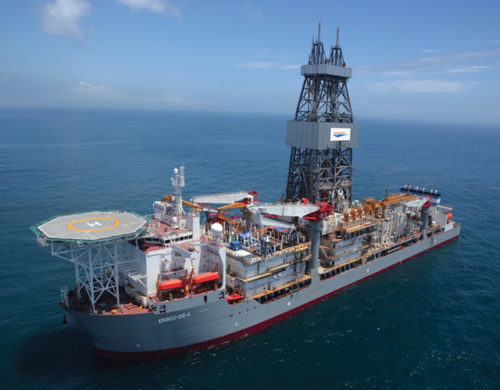 Deep-sea oil driller Ensco Plc says it would buy smaller rival Rowan Cos Plc in an all-stock deal valued at $2.38 billion.
The company noted on Monday that the move is to take advantage of a nascent recovery in the sector fueled by strengthening oil prices.
Offshore drilling, the worst hit during the 2014 slide in oil prices, is set to benefit as recent auctions and discoveries worldwide indicate a rising need for specialized drill ships.
"We're starting to see a broad pick up in nearly all geographies and all market segments," Ensco Chief Executive Officer Carl Trowell told analysts on a call.
The combined entity will have an enterprise value of about $12 billion and will own a fleet of 28 floating rigs and 54 jack-ups, with drilling operations in the Gulf of Mexico, Brazil and West Africa, among others.
The deal also expands Ensco's presence in the market for higher-specification rigs, which help operators drill in challenging conditions and also fetch higher rates.
"ESV will now gain exposure to the ultra-harsh jackup market, which is a market that is quickly beginning to tighten, and double-down on its already robust market share position with Saudi Aramco via addition of RDC's ARO Drilling JV," Tudor Pickering Holt & Co analysts said.
Rowan holds a 50 percent share in ARO Drilling and rigs leased by the
joint venture will be owned by the combined company after the deal closes.
The Rowan deal is Ensco's second since OPEC-led efforts boosted oil prices as offshore drillers turn to deal making to increase bargaining power amid persistently low day rates and overcapacity.
Transocean Ltd, one of the world's largest offshore drilling contractors, recently agreed to buy deepwater expert Ocean Rig UAW for $2.7 billion.
Ensco, which bought rival Atwood Oceanics last year, said Rowan shareholders will receive 2.215 of Ensco shares for each share held.
That translates to $18.78 per share and does not offer any premium to Rowan's Friday close.
Ensco shareholders will own 60.5 percent of the combined company and
Rowan the rest.
The deal, which is expected to close in the first half of 2019, will generate savings of $150 million annually.
Ensco's shares were up 2.3 percent at $8.67, while those of Rowan gained 2.5 percent to $19.25 in late morning trading.