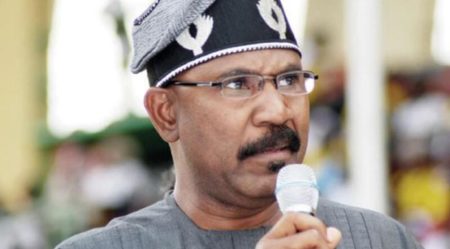 Newly appointed Managing Director of the National Inland Waterways Authority (NIWA), Senator Olorunnimbe Mamora, recently had a near death experience along the Lagos inland water channel when the boat he was travelling in accidentally hit a concealed floating log of wood. Mamora went to inspect facilities of the agency in Lagos. 
The incident happened after the Managing Director finished inspecting the NIWA CMS office jetty and other facilities in Apapa, Ijora, Oyingbo and was heading towards Osborne foreshore to also inspect the Texas connection ferry jetty.
This is not the first time such accident is happening along the country's inland waterways. In fact, such occurrence has become very frequent and it underscores the need for the government to pay serious attention to the security of lives and property in and around the country's inland waterways. 
For instance, two months ago, a boat travelling from the popular CMS Jetty to Ikorodu town capsized along the way killing five occupants. This happened just two months after 24 passengers escaped death when two boats collided and capsized in the Ojo area of Lagos State. Last year, precisely on August 20, 2017, 12 passengers lost their lives in another boat mishap in the Ilashe area of Lagos. 
In a similar incident, a police officer, by name, Mary Adesoba, attached to the Zone 2 Police Command, Onikan, Lagos, lost her life on October 10, 2017 when a boat carrying 21 passengers capsized on the Third Mainland Bridge waterways. The boat was en route to Ebute-Ero from Ikorodu when the mishap happened around 10 am as it hit a submerged object. Also, on May 25, 2016, a woman died after a commercial boat en route Victoria Island, Lagos, from Ikorodu ran into a log of wood and capsized. Twenty-seven other passengers on board the speedboat escaped death with varying degrees of injuries.
These fatal incidents would have been avoided only if minimal safety precautions were observed.
It has become very worrisome that precious lives are being lost daily along the country's inland waterways, which unfortunately are littered with life threatening objects, even as boats commute passengers through the dangerous channels.
Government at both federal and state levels should wake up to their responsibilities and ensure that the country's inland waterways are safe for commuting. A stop should be put to these avoidable deaths on the waterways. All agencies responsible for keeping the water channels free from wrecks and blockages should equally be alive to their responsibilities. 
Now that the new NIWA Managing Director has experienced firsthand the dangers commuters face daily along our waterways, it is high time he does something fast to avoid more fatalities. NIWA, which has the responsibility of keeping the inland waterways safe, should ensure that the wrecks are quickly removed from the channels.
For a start, the agency should urgently embark on a comprehensive survey of the country's waterways to identify areas where the life threatening wrecks are lodged and ensure their quick removal. Notices should be placed along the areas where wrecks are identified to ensure boat operators avoid such spots. 
Again, laws should be made to prevent people from abandoning wrecks or logs of wood along the water channels while the dumping of refuse into the waterways should out-rightly be stopped. 
Above all, NIWA should enforce safety guidelines for inland waterways users, if such does not exist already. This would ensure that boats plying the inland water channels are in good condition and not overloaded, while crew and passengers must use lifejackets on every journey. 
The agency should also embark on a 24-hour Search and Rescue operation along the very busy routes to ensure quick evacuation of accident victims. Those who commute people through the inland water channels should as a necessity be trained and certified. A stitch in time saves nine.
Copyright Ships & Ports Ltd. Permission to use quotations from this article is granted subject to appropriate credit given to www.shipsandports.com.ng as the source.