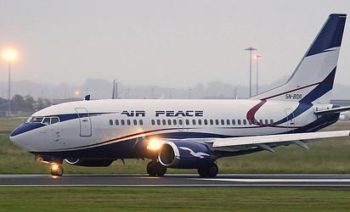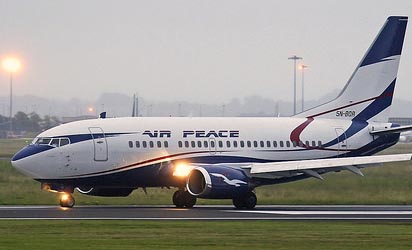 Air Peace Airline flight operations at Akanu Ibiam International Airport, Enugu was yesterday disrupted by the airport manager,  Mgbemena Orjiakor who wrongly stopped the airline from processing passengers at their check-in counter over what he claimed is the airline's indebtedness to Federal Airports Authority of Nigeria (FAAN).
According to Orjiakor, Air Peace is owning FAAN N7,000,000 ( Seven Million Naira) and so decided to stop the first flight operation of the airline from Enugu Airport.
The disruptions of the airline operation lasted more than One Hour before the Airport Manager was made to realize that Air Peace was not owning FAAN Seven Million Naira.
Reacting, FAAN's Acting General Manager, Corporate Affairs, Henrietta Yakubu confirmed that Air Peace had paid its outstanding debt to FAAN.
She also apologized on behalf of the agency for the inconveniences the situation must have caused the airline and its passengers and promised that the agency will see to it that such doesn't repeat itself.
Speaking about the disruption yesterday, Barrister Allen Onyema, Chairman, Air Peace said that on Friday morning, its operation was shut down by Orjiakor over N7million debt, which the airline showed proofs to have paid. Onyeama said : "I got a call this morning that the Federal Airports Authority of Nigeria, (FAAN) stopped our operations in Enugu over N7million naira debt, which we have already paid. The airport manager did not go back to check his books to know if we actually paid or not but hurriedly stopped our operations, a situation that is costing us millions of naira. "We do not know if the airport manager is sponsored by someone to bring down AirPeace because even after Lagos sent evidence of the payment, rather than own up to the fact that the agency lacked proper accounting, the agency said the airline is owing an outstanding N1.8million. This is why I said this act is sabotage." Onyema lamented that an airline that owes the government over N11billion was allowed to operate that morning but Air Peace was temporary shut down over N7million naira it already paid.
"When I called the Enugu airport manager to complain to him about the situation, he answered me rudely by saying I was talking like a riffraff. This man is not fit to be in that position. This same airport manager does not know that he is employed today because of the airline. How can he call me riffraff?
"If we are not adequately compensated for our losses, we promise the government that we will go to court. This is part of the reasons why airlines in Nigeria do not survive," the AirPeace boss said.
"I had to call Saleh Dunoma, the managing director of FAAN who was not aware of the situation. He politely told me that he will handle it and he was very sorry about the situation. The director of commercials also got across to me and also told me he was looking into the situation and they will get back to me.
"The Director of Human Resources also got across to me and pleaded with me. But Mgbemena Orjiakor, the Enugu Station Manager, will have to explain to the world who sent him because I believe this is outright sabotage. That station manager was not remorseful and very insulting," Onyeama added.