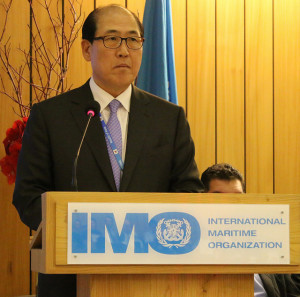 On Sunday IMO secretary general Kitack Lim inaugurated the Panama Maritime XIII World Conference and Exhibition, the largest event of the maritime industry in Latin America as the country's Ship Registry is celebrating its centenary.
"I wish to congratulate the great achievement of Panama in celebrating 100 years of ship registry and the major contribution it represents to the maritime sector, together with the country's support to the work of the IMO, tangible with the large number of ratifications of the conventions adopted by the organisation," expressed Kitack Lim.
"For IMO, 2016 was another of considerable progress on many key areas of our work. Amongst the highlights were the agreement on year 2020 for a global reduction of the sulphur content of ships' fuel oil; adopting a mandatory requirement for ships to collect and report data on the fuel and a road map to develop a comprehensive strategy for reducing greenhouse gas emissions from ships.
"It was also the year of ratification of the Ballast Water Management Convention that triggered the entry into force of that important instrument later this year," Lim said.
"The shipping industry is searching for ways to prosper in the current climate…and while some sectors have been hit harder than others, the overall picture has not been good."
However, "the IMO continues to work towards common global standard and to enhance efficiency of maritime trade and to pursue better regulation and listening to the needs of the maritime industry," Lim told the attendees from the shipbuilding sector, from bunker and port industries, from shipyards, classification societies, service providers, auxiliary maritime suppliers with the most important leaders of the maritime industry of Panama and experts from more than 50 countries.
Panama Maritime is held every two years and is organised by the Panama Chamber of Shipping the Panamanian Maritime Law Association with the collaboration of the Panama Maritime Authority (AMP) and the Panama Canal Authority (ACP). This year the Organising Committee president was Ms. Flor Torrijos, a lawyer from the InterMaritime Group and representing the Panama Maritime Law Association.
At the end of the opening ceremony, an award was made to relevant industry players amongst them, the award given to the Panama Canal Administrator, Jorge L. Quijano, who was chosen as the "Maritime Personality of the Year".
The conference was initiated Monday with presentations from Jorge Barakat, Minister of Maritime Affairs and the award-winning. Quijano, followed by speakers from the presidents of the Shipowners' Association of South Korea and Greece, representatives of companies such as Oldendorff Carriers, Wärtsilä North America, Chemoil Corp and many others as the conference extends to Wednesday.
Copyright Ships & Ports Ltd. Permission to use quotations from this article is granted subject to appropriate credit given to www.shipsandports.com.ng as the source.