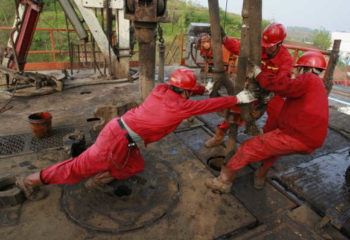 Some experts have commended the Federal Government on its plan to increase oil production from 2.2 million barrels per day (mbpd) to 2.5 mbpd by 2020 under the Economic Recovery and Growth Plan (ERGP).
The experts, who spoke in separate interviews in Lagos on Monday, agreed that the country needed to increase its oil and gas exploration activities.
The Federal Government also plans to revamp local refineries to reduce petroleum product imports by 60 per cent as well as increase electricity generation to 10 gigawatts.
Federal Government said that the plan "is anchored on focused implementation which is at the core of the delivery strategy over the next four years."
Dr Mayowa Afe, the President of Oil and Gas Trainers' Association of Nigeria (OGTAN), commended the government for finally giving the country an economic plan.
Afe said that the plan was timely and its intentions noble.
According to him, oil production has started to increase due to ongoing dialogue instituted by government to resolve challenges in the Niger Delta region.
"Nigeria needs a plan that will boost productivity, get the youths engaged and ensure economic sustainability,'' he said.
He faulted the country's over-dependence on oil, saying the fall in global oil prices had brought the country's economy to its knees.
Afe said that Nigeria needed to look beyond crude oil and bring more foreign investments like what was happening in India and China.
"The greatest unease about the plan is the mindset that government will do everything in terms of providing infrastructure.
"Nigeria must open up infrastructure currently under government monopoly so that foreign investments can come in,'' he said.
The President of Nigerian Association of Petroleum Explorationists (NAPE), Abiodun Adesanya, said that government's plan to increase crude oil production to 2.5 mbpd by 2020 could be achieved if the ERGP could be well implemented.
Adesanya said government's target to increase crude oil reserves to 40 billion barrels and three million barrels per day by the year 2020 could be achieved.
According to him, Nigerian oil and gas industry is currently experiencing declining reserves owing to reduced exploration activities due to militancy.
He said that successful exploration and development of new oil fields would require the use of novel integrated technologies.
Adesanya, said that government was committed to meeting the 40 billion barrels oil reserves target.
He, however, decried the rate of crude oil theft and pipeline vandalism in the country.
Saka Matemilola, Nigerian Council Chairman, Society of Petroleum Engineers (SPE), said that the projections of ERGP were laudable.
Matemilola said that one of the key priority areas in the ERGP road map for the oil industry was the plan to increase local refineries' production capacity by modular refineries and co-location.
''Perhaps, the most important part of reforms in the midstream and downstream sub-sectors is in creating a profitable products-to-market system for Nigeria and removing hindrances and bottlenecks through incentives and regulatory frameworks,'' he said.
He said that the current state of the country's supply and distribution systems were characterised by poor storage facilities, inadequate supply, pipeline vandalism, poor products management and accountability.
To correct the imbalance, he said the country needed to build refineries and run them as profit centres that would purchase crude at international prices and deliver their products at export parity prices.
The chairman said that this could be the only viable basis for financing new infrastructure.
The ERGP intends to reduce unemployment rate to 16.32 per cent in 2017, 14.51 per cent in 2018, 12.90 per cent in 2019 and bring it down to 11.23 per cent by 2020.
ERGP also plans to create 1.5 million jobs this year, 3.8 million in 2018, 4.3 million in 2019 and 5.1 million jobs in 2020.
It plans to expand oil output from estimated 1.8 mbpd in 2016 to 2.2 mbpd in 2017 and 2.5 mbpd by 2020.
The ERGP targets an average of 16.5 per cent growth in total exports from 2017 to 2020 from oil and non-oil exports.