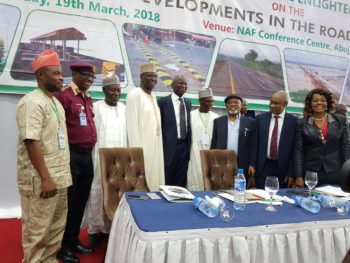 President Muhammadu Buhari on Monday warned truck drivers to desist from parking on Federal highways and to establish private parking lots to avoid congestion and ease vehicular mobility across the country.
Buhari gave the warning at a public enlightenment forum, organized by the Federal Ministry of Power, Works and Housing (FMPWH), in Abuja.
The event was organized by the ministry to orientate the public and other stakeholders on recent developments in the road sector such as weighbridges, road signage and the return of the toll gates among others.
The President said the warning had become needful to ensure that huge investment in the road sector; especially capital projects raised from 15 percent to 30 percent achieve desired impacts.
He acknowledged the importance of good roads to achieving the economic recovery growth plan.
Buhari said: "The eradication of overloading on our highways will promote competitiveness in business and reduce high maintenance cost of heavy-duty vehicles. I implore all vehicle fleet operators and tanker drivers to stop parking their vehicles on the federal highways, as these often cause roads to be congested.
"The highways should be free at all times for safe and comfortable movement of vehicles. Fleet owners should endeavour to create private parking lots for their fleets at designated locations."
The President, who was represented by the Secretary to the Government of the Federation (SGF), Alhaji Boss Mustapha, said the Federal Government is increasing investments and resuscitating the rail sector to reduce stress on the federal road networks.
He urged the stakeholders to contribute meaningfully to enhance implementation of the existing policies.
Speaking on the restriction on weights and axle load of heavy duty goods vehicles, the President noted that the approval was to increase the lifespan of the federal road networks. He noted that the new regulation is also applicable within the Economic Community of West African States (ECOWAS) sub-region.
Earlier, the Minister, FMPWH, Babatunde Fashola lauded importance of the road projects to improving socio-economic development of the people and optimizing inherent opportunities.
He cited instance of the Trans-Sahara highway project connecting Nigeria to Chad, Niger Republic, Tunisia, Mali and Algeria; the Lagos-Abidjan highway which runs through the Benin Republic, Togo and Ghana and the road project connecting the country to Cameroun, from Enugu through Abakaliki, Ogoja, Ikot and Ifun.
He said the existing treaty obligations on permitted weights and axle load of heavy duty goods is such that should be obeyed.
According to him, the treaty within the West African sub-region regulates, "the amount of loads any goods vehicle can put on an axle and by extension, the amount of loads that is put on road pavement within ECOWAS region and beyond."
"Our compliance with this regulation will open a massive door of opportunity and prosperity of cross-border trade to Nigerians who are engaged in road transport business."