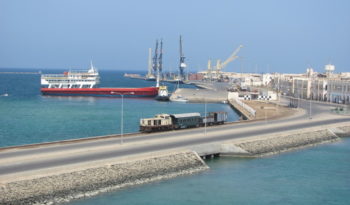 Landlocked Ethiopia wants to make the re-opening of two roads connecting it to two of Eritrea's Red Sea ports a priority in the two nations' reconciliation process, a government spokesman said on Wednesday.
In a move that ended a 20-year military stand-off, the Horn of African neighbours agreed on Monday to open embassies, develop ports and resume flights.
The historic reconciliation could transform politics and security in the volatile Horn region, which lies along one of the world's busiest shipping routes.
Ethiopian government spokesman, Ahmed Shide, said on Wednesday that the reopening of two critical roads leading to the ports of Assab in Eritrea's south and Massawa in the north would benefit the whole region.
"The unfolding developments will not only benefit our peoples, but the entire Horn of Africa region will be a part of these developments," Shide was quoted as saying in an interview published on the Eritrean information ministry's website.
Also on Wednesday, Ethiopian Prime Minister, Abiy Ahmed's chief of staff wrote on Twitter that Ethiopian and Eritrean passport holders would be able to travel to the other country and obtain visas on arrival.
The changes are sweeping away years of hostility and raising hopes in both countries for a lucrative peace dividend.
Access to the ports of Assab and Massawa could greatly help Ethiopia's push to boost their exports and increase hard currency earnings, analysts say.
The country of 100 million is heavily dependent on ports in tiny neighbour Djibouti, but since Abiy took office, has also negotiated access to a port in Sudan.
Agency Report