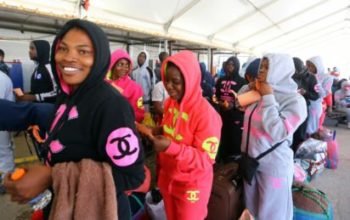 The European Union (EU) has said that there are 57,000 Nigerians stranded in various camps in Libya.
The bloc said the figures were made available by the International Organization for Migration after its survey conducted in various camps.
The EU Deputy Head of Delegation in Nigeria, Richard Young, disclosed this at a Public Lecture and Book Launch to observe the 2018 World Day Against Human Trafficking organised by NAPTIP in Abuja.
Young said about 11,100 Nigerian migrants, who were among irregular migrants in Libya, had so far returned to the country.
The EU senior official stated that 9,000 Nigerians were brought back to the country by the International Organisation for Migration (IOM), while the Federal Government also brought 2,100 in the recent evacuation exercise.
He said that the union was working with relevant stakeholders and agencies to ensure that the stranded Nigerians return home.
Young said EU was in partnership with NAPTIP to ensure that human trafficking was defeated.
He called for a joint task force with the International Law Enforcement Agencies for effective war against human trafficking.
In her remarks, the NAPTIP's Director-General, Julie Okan-Donli, said that the issue of human trafficking should be a concern for every nation as it affected all aspect of human life.
Okah-Donli explained that human trafficking endangered public health, fuels violence and organised crime.
She said, "We shall be talking about injustice, man's inhumanity to man, the outrage of human trafficking which must be called by its true name, modern slavery.
"This event is, therefore, a clarion call on us all to deploy all possible strategies to rescue and empower victims of human trafficking.
"This will be done by ensuring that they see and rise beyond the boundaries of uncertainties."
The United Nations had in 2013 adopted a resolution that every July 30 should be set aside as the World Day Against Human Trafficking.
This is to raise awareness on the situation of victims and for the promotion and protection of their rights.