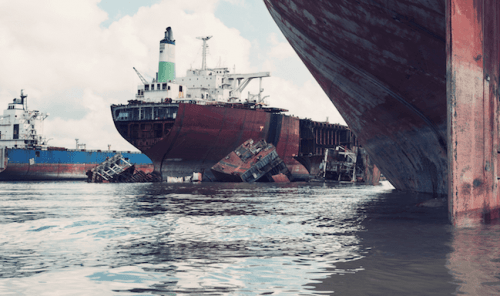 Evergreen Line says its ship demolition and recycling policy requires the shipbreaking yard selected by all buyers of its decommissioned vessels must be not only ISO certified (ISO 9000, 14001, 18001 or 30000), but also implement class approved standards of the 2009 Hong Kong Convention (HKC). 
The Taiwanese carrier said the Convention comprises the control and regulation of vessel's entire service life from design, construction, operation to recycling. 
"It aims to enhance safety in the ship recycling industry, maintain environmental protection standards, reinforce regulation of ship design, construction, operation and demolition and, in particular, raise the environmental protection standards of ship recycling facilities," it said. 
Evergreen said despite the Convention not being officially in force, it insists on the adoption of such stringent standards in order to ensure that its decommissioned vessels were being scrapped in a safe and eco-friendly manner.
"It is also noteworthy that Evergreen recently strengthened its contracts by adding a liquidated damage clause into the memorandum of agreement (MOA), which makes it carry heavier weight and deterrent effect for any buyer who is non-compliant. Notwithstanding that, if it is found that recycling of any of the company's vessels does not fully comply with the stated standards, Evergreen will take all necessary actions to safeguard its values of its green recycling policy.
"A case in point is the scrapping of Ever Unison. Evergreen currently planning to launch arbitration proceedings against the buyer for breaching the obligation, under the terms of the MOA, to scrap at a HKC green shipyard. Evergreen is also considering to seek an injunction from the High Court to prevent vessel being demolished at its current location," the firm added. 
Copyright Ships & Ports Ltd. Permission to use quotations from this article is granted subject to appropriate credit given to www.shipsandports.com.ng as the source.