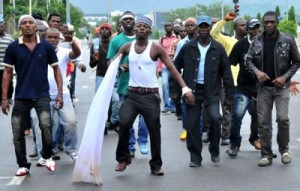 Former Niger Delta militants who are benefitting under the Federal Government's Presidential Amnesty Programme have opposed reported plans by the Federal Government to terminate the programme in 2018.
Ex-militant leader and Chairman, Amnesty Phase 11 in Delta State, Kingsley Muturu said "the laudable intentions of the initiative" is far from being achieved.
Muturu advised that the FG should first ensure the relocation of multinational oil companies and facilities back to the Niger Delta before such a provocative move.
"The ideal of peace and deserved development of the Niger Delta for which Late President Musa Umar Yar'Adua laudably offered and implemented the Amnesty programme remain far from being achieved. 
"With the groundswell of anger in the land, we wish to humbly serve notice that we cannot guarantee the safety of oil installations in the Niger Delta. Accordingly, before terminating the PAP, we advise the Federal Government to kindly relocate all oil facilities from the Niger Delta region to another safer haven.
"This advice is intended to avert consequences of military deployment by the FG which unfortunately believes more in physical force to spill innocent blood of people of the oil-bearing communities in the Niger Delta," he stressed.
Muturu alleged that the amnesty programme has suffered declining fortunes under Paul Boroh who he claimed, was arm-twisted by agents of government to the detriment of Niger Deltans.
"With recent denials of Niger Deltans in educational programmes of the PAP, is the FG not orchestrating the denial of Niger Deltans from the prospect of being in the commanding heights of political and economic decision making in the Nigerian nation that has so held us down?" Muturu queried.
"It is disheartening that even those interested in agricultural training, whose training were supposed to last longer were reduced to two week training or less. The implication is that they were not trained at all while the vendors (contractors) of such programmes smile to the banks with huge amounts," he said. 
The ex-militant further alleged that politicians and bad advisers were preventing Gen Boroh from meeting with leaders of the militants for which the programme was designed so they could offer suggestions for continuity.
He said budgetary constraints disabled payment of a housing allowance of N150, 000.00 per year paid once under Kingsley Kuku as Coordinator of the PAP, adding that "several militants that we have engaged and who are undecided as yet to embrace amnesty for the good of the nation are turning around to mock us over the FG lacklustre disposition to the PAP".
"We had thought that an amnesty programme that is progressively better sponsored, not terminated, would take the wind off the sail of those still bent on vandalism as a means of agitation," he said.  
Copyright Ships & Ports Ltd. Permission to use quotations from this article is granted subject to appropriate credit given to www.shipsandports.com.ng as the source.